 'Striker' makes Bollywood history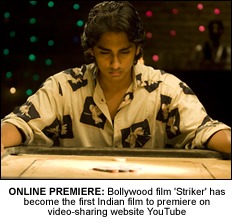 BOLLYWOOD film 'Striker' will become the first Indian film to premiere on video-sharing site YouTube.
The film will screen on 5 February to coincide with its release in India. Bollywood fans in America will have to pay to watch it online, but fans in the UK will be offered it for free.
The film stars Siddharth Narayan who featured in the Aamir Khan starrer 'Rang De Basanti', alongside Anupam Kher and Vidya Malavade.
Amit Agrawal, Head of You Tube Partnerships, Google India, said: "Our goal at YouTube is to create a comprehensive destination for online video with a range of content, from user-generated clips to full-length shows and movies. We're particularly excited to have the premiere of Striker on YouTube and available to Bollywood fans around the world on YouTube"