 Former England star singles out British Asian Week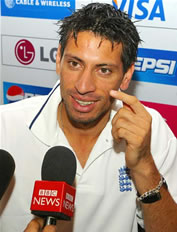 England bowler Sajid Mahmood could be his teams' 'star' in Australia later this year, former captain Mike Gatting has said.
The Lancashire paceman has made a name for himself at international level after a pulsating performance against Pakistan earlier this year.
And his involvement with England, as they look to retain the Ashes in Australia later this year, could elevate him to the levels of success enjoyed by bowler Simon Jones last year when England won the Ashes on home soil, the former star said.
Gatting told BBC Five Live: "Sajid is the one I will be watching for. He bowled some wonderful spells last summer but then bowled some bad ones.
"Like Simon Jones was an integral part of our win two years ago, Sajid needs to be bowling well.
"He's the sort of bowler, six foot odd and 90 miles-per-hour, that we need as back-up, and he could be as important as Jones was in the 2005 Ashes.
"If he can work on his consistency then his confidence will grow."
Mahmood will experience his first taste of cricket down under when he travels with England in defence of the Ashes title.
While the Aussies have publicly stated they will be out to break down Monty Panesar's game, Mahmood admitted the abuse he suffered at Headingly at the hands of Pakistan supporters will help him deal with whatever the Australians throw at him.
"If I hadn't been through that against Pakistan then Australia might have come as a shock," said the 24-year-old. "But I came out of it stronger and that can only help me in the Ashes.
"It did hurt because no one likes being called a traitor. But you have to keep your mind strong. I told myself that the best way of shutting them up is by performing well. Their abuse made me even more determined to get some wickets and that gives me confidence for Australia."
Mahmood is expected to line up for England when they play their first match of the ICC Champions Trophy against hosts India in Jaipur this Saturday.