 Indian 'first' returns to education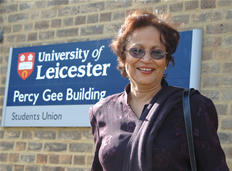 A woman who attended the University of Leicester nearly 50 years ago – becoming the first Indian woman to attend the University- has retraced her steps.
A highlight of Usha Bowry's time at the University of Leicester was a visit by HM The Queen in 1958, when the University received its Royal Charter granting it full University status.
The Queen opened the Percy Gee Building, which houses the Students' Union, and Usha
(pictured right)
 and her sister, Santosh, were among the hundreds of students and dignitaries at the University for the royal occasion.
"It was a wonderful occasion and a highlight of a splendid time I had at the University of Leicester", the 72-year-old said.
"I have such lovely memories of my time here – the University was a great place in which to study and it looks magnificent now. I cannot believe how much it has grown.
"We were just two Asian girls staying in halls and our presence generated some curiosity and quite a lot of interest. Everyone would stop and talk to us- it was such a friendly place. I used to wear saris all the time and people would stop in the streets and ask if they could take a photo of me.
"Once a woman came over and felt the material of my silk sari and remarked – 'that's just what I'm looking-for for my drapes!' My six yards of sari, and the methodology of draping it, was a matter of special interest to many. On occasions, I demonstrated the technique of wearing it, to some delighted friends.
"Nobody was ever racist-people were warm and welcoming. I have abiding memories of my time at Leicester and am thrilled to be able to revisit the University."
Usha and her husband Dhruv Dhupa, who is a Fellow of the Royal College of Obstetricians and Gynaecologists, were shown around the University along with Usha's niece, councillor Mrs Manjula Sood – also a graduate of the University of Leicester- and her mother Mrs Raj Bowry.
Usha, 72, has lived in San Diego, California, for a number of years. She formerly lived in Nairobi, Kenya, from where her father had sent her to Leicester to study.
"I initially went to India for my studies and then came to Leicester to finish off my education. I read English and went on to do a Postgraduate Diploma in Education.
"Leicester was newly established as a University in its own right- it was previously a University College- and I loved it here. Everything in England was so orderly, elegant and sophisticated- I found it delightful.
"Leicester seemed quite rural compared to London but the city made me feel very welcome. Everyone was so nice and the British Council were a great help too- welcoming us and arranging orientation programmes for us. They even made sure that we had equipped ourselves with overcoats, as we could barely estimate the harshness of English winters, after coming from our tropical homes. They organised trips for us and did a wonderful job looking after us.
"I went to the Lake District, stayed in Wales, tried my hand at pottery, murals, music, and enjoyed lots of theatre visits. Visiting London during Christmas holidays and in summer was a culturally enlightening, entertaining and an educational experience. It was a real adventure.
"I did feel foreign because people treated me, at times, like a fragile porcelain doll. The University allocated me the hottest room in the hall- I had to sleep with the window open!
"I remember the education here being wonderful and inspiring. During my P.G.D.E. training, the Progressive methods of Teaching were exciting and enhanced my interest in the teaching profession. Leicester academics were well established and had good reputations – they had such great presence.
"During my time here I made friends with people from around the world – I never felt alone or insecure. I have fondest memories of my visits to many English homes for teas, savouring their hospitality, style and decor. I stayed over weekends with my friends meeting their families and exploring the countryside.
"I had the pleasure of giving a special talk on my country of origin, India, and my country of birth, Kenya, to the Rotary Club of Scarborough. I fondly remember their warmth and hospitality and my enjoyment of the scenic beauty. On one occasion, I was invited to talk on Hinduism, and had a privilege of presenting my copy the 'Bhagwad Geeta' to the University Library.
Her majesty the Queen wih the University's former Chancellor Lord Adrian in 1958 on the ocassion of the opening of the Percy Gee Building housing the Students' Union

"I remember The Queen visiting- there was so much excitement amongst all the students. She had such a delightful and gentle way of conducting herself."

Usha's love of English abides- she is now a published poet and writer. Two of her children are Professors of Medicine in the USA and the third is a private Surgeon.

Speaking of her return to Leicester she said: "There is so much energy and excitement about the place. The University and city have changed so much- there is so much diversity. I am so glad to have been a part of it." Her visit to the Halls of Residence, the oak-panelled Library, which is a Law School Library now, where she had spent many hours studying, and her visit to the Students' Union brought her back many nostalgic memories.

Ather Mirza, spokesperson for the University of Leicester, said: "We are delighted to have welcomed Usha and her family back. Her visit rekindled many memories and she visited the archives to see images of the University's history. She felt her visit had enhanced her appreciation of the years at the University, and her memorable student experience. She was also presented with a copy of the History of the University.

"Leicester is proud of its students and graduates- they are ambassadors for the University around the world and are an important reason why this University is so highly regarded internationally."