 Brum hockey star earns senior international cap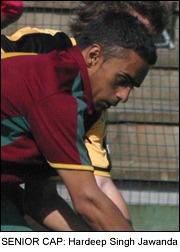 THE OLYMPIC aspirations of a second year student at UCE Birmingham have been boosted with his first cap for the Men's Senior hockey team.
Hardeep Singh Jawanda, 20, from Wednesfield, started for the senior men's team in his favoured centre forward position in the recent Holland v England international. Although Hardeep, better known as Harry, was unable to get on the score sheet and shared the team's disappointment at the 3 – 1 loss, he remains positive.
"Although we lost," he said, "It was a big milestone for me. Getting my first cap was a dream come true and it was a great experience, which I thoroughly enjoyed."
Harry, a BSc (Honours) Information Technology Management for Business student at UCE Business School was philosophical in defeat and resolved to treat the game as a learning experience.
He said: "I am aware that there is a long way for me to go to ensure I have an international hockey career ahead of me. I think I played quite well on the ball and at a good intensity but could have defended better, from the front, positionally.
"It was a great experience and I have learnt from my mistakes. I also think this has contributed to my preparation for the Under 21 tournament in January as I have had to try and raise my game and improve my physical condition to compete at senior level.
"The preparation has been going very well individually and as a team and I think we are almost ready to go and compete."
Harry will represent England at the Youth Olympic Festival in Sydney, Australia, in the New Year – the latest phase in a developing hockey career that he hopes will take him all the way to the 2012 Olympic Games in London.
With England Under 16's, he was a European Four Nations silver medallist and a European Championships bronze medallist. For the Under 18's he was a gold medallist and top English scorer at the European Championships.
Harry currently plays for Cannock Hockey Club, with whom he has won the last three consecutive English Hockey Premier League titles and where his first team captain, double Olympian Michael Johnson describes him as 'a great, hardworking lad with a keen eye for goal.'
He has also played for and coached the UCE Birmingham men's hockey club where his input has helped the university side achieve promotion to the British Universities Sports Association (BUSA) Men's 2A League in the Midland Conference.
Harry is currently sponsored by Grays International, the largest hockey equipment manufacturer and supplier in the UK and by the Council of Sikh Gurdwaras, Wolverhampton but he is always on the look out for further financial assistance. If you are interested in sponsoring Harry, please contact N. S. Jabbal on 07977 079 731 for further information.