 Pool Champion Raj Hundal talks to The Asian Today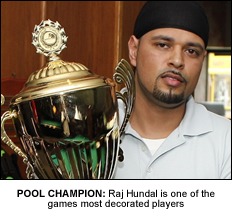 IN the world of British Asian sport Raj Hundal is an accomplished sportsman. His game isn't cricket, boxing, or even football. Raj Hundal is a Pool man, a World Champion in Pool to be exact.
The Hounslow-born star is one of the games most astute players and has shared the same table as snooker hot-shot Ronnie O'Sullivan. This weekend he'll go head to head with fellow sports stars at the British Asian Sports Awards. It's an award that is hugely important to him, but why?
Raj you've been nominated for the Most Up & Coming Personality of the Year award at the British Asian Sports Award. How does it feel to be recognised in such a way?
It feels great and I am truly honoured to have been nominated and recognised for my achievements and talent. I feel blessed to have the responsibility right now of being the only Indian to play this game on a world class level and hope to encourage more Indians to triumph in sports were we are the minority.   
How confident are you about your prospects for the award?
I feel confident that I am in a good position to win. With it being the 'Most Up and Coming Sports Personality Award' I must be in with a great shout as I am a colourful person on and off the pool table! And I would challenge any of my competitors to have more presence and charisma than myself on any given day!
How important are the British Asian Sports Awards in unearthing talent like yourself?
It's very important. I've enjoyed world wide exposure over the years but it still seems that my own community still doesn't really know me that well considering in countries like the Philippines I am a household name. So any exposure within the Indian community is great for myself and the sport and will boost the belief of Indian youths in all sports. 
You've made your name through Pool – it's a sport which doesn't feature many Asian players. Why do you think this is?
Unfortunately there are no Indian Asians playing this game on a world class level. There always needs to be one who shows the way and I have that responsibility and blessing. But I need the media to help me in every way so we can promote the sport to our own community. It's partly the media's fault I believe in not exposing talents like myself in sports where we are the minority instead of always giving the mainstream exposure to sports like cricket.
I also believe Asian parents are partially to blame. The common problem Indian children have is that their parents or guardians only push them towards education and have a stereotypical view that being a doctor, dentist or lawyer is the only route to success. I believe that education is king as we are always learning every day and also having an education is a great security in life. But, I also feel having a dream and then having the heart, ability and talent to pursue it is priceless.
I hope to see in the near future that more Asians like myself and Amir Khan are at the top of our games on a world class level showing the Asian community we have the blood of champions.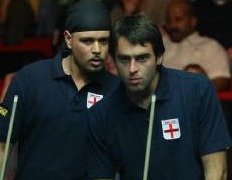 How did you get into Pool? What attracted you to the game?
I got into snooker at such a young age because my cousin had a table at my auntie's restaurant in Hounslow where my mother worked as a chef.
I was too young to be left alone at home so I used to walk to the restaurant after school and beat my cousins, uncles and anyone else who would challenge me at the age of six. From that age I loved the taste of winning and to this day I can't imagine life without that feeling.
At 8 years, I started on a professional sized 12-foot snooker table whilst standing on a beer crate to reach my shots. At the age of 17, I was introduced to the artistic game of pool, which was much attacking and fast paced than snooker could ever be and was right up my street. I was hooked!
The first pool tournament I ever played in was a UK ranking event held in London and I finished in third place out of 128 man field losing 11-10 by misfortune to the eventual winner and UK No1 at the time. Being as competitive as I am and playing with my heart, I will never give up and therefore my game will only ever progress so this will be my career and passion for life.
Are you hoping your success in the game will help attract more Asians into the game?
I hope so. Because we've never had a world class pool player who is Indian like myself to show that this is very possible and that we are more than just great cricketers there will be a new generation of pool players to come. Especially with my projects in India, on the promoting side as well as playing we will see more Indian world class pool players in the future making us all proud.
Finally what have you got lined up for 2010? Any tournaments we should be keeping an eye on?
Yes, I've just received this year's invitation to compete in the prestigious World Pool Masters Championships again, which will be held in Las Vegas and immediately followed by the 10 Ball U.S Open. Later in the year I will also be playing in the World Cup of Pool, World Championships, 9 Ball U.S Open and defending my Interpool Open titles.
These are just to name a few but you can follow me through my official website
www.rajhundal.com
For more information on the British Asian Sports Awards log onto
www.basauk.tv