 Sonia Deol travels to India for 1984: A Sikh Story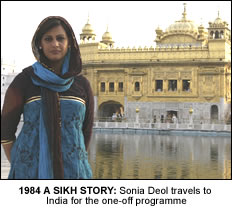 IN 1984 Indira Gandhi sent troops into the holiest and most revered of Sikh shrines, The Golden Temple.
The aim was to expel the Sikh militant preacher, Sant Jarnail Singh Bhindranwale and his followers. What followed were the bloodiest of consequences, ultimately leading to Indira Gandhi's own assassination by her Sikh bodyguards and a backlash against the Sikhs that India had not witnessed since the days of partition. 
 1984: A Sikh Story tells the story of this tumultuous year through the eyes of British born Sikh, Sonia Deol, who was only eleven when the Indian army stormed The Golden Temple. 
 It is only in recent years that Sonia has begun to understand her faith – an awakening that began during her own visit to The Golden Temple; and there are many questions she needs answered. How could Indian troops, led by a Sikh, storm such a sacred shrine? How did the 'cult' of Bhindranwale attract so many Sikh followers and why is he still revered by some today? 
 The one – off documentary takes Sonia on an emotional journey back to India in a bid to discover how such an attack could ever have taken place.
 Throughout her journey, Sonia will meet and interview eye-witnesses, including Giani Puran Singh a Golden Temple priest who dodged bullets from both the Indian army and Bhindranwale's men; as well as the Army General Brar who was in charge of Operation Blue Star and whose army stormed the temple.
 Sonia will also meet up with those caught up in the aftermath of Mrs Gandhi's assassination and the resulting terrifying riots in Delhi.
Plus she will interview the women who were widowed during the riots and BBC correspondent Mark Tully, who became known for giving the world an insight into these events as they were happening, on the ground.
 Starting in the UK and following Sonia on her journey to India, 1984: A Sikh Story will tell the story of her personal voyage to understand the history of her faith and explore what it means to be Sikh in Britain today.
 Executive Producer Tommy Nagra says: "The events of 1984 have become an iconic and integral part of modern Sikh history. This is very much a personal film unravelling a chain of bloody events that India had not witnessed since the days of Partition."
1984: A Sikh Story, Sunday 10 January at 22.55 on BBC One