'London, January 2023 UK distributor Studio Soho are delighted to present the new trailer and poster for Saim Sadiq's debut feature JOYLAND, the first film by a Pakistani director to win at the Cannes Film Festival 2022. Alongside its jury prize win, JOYLAND received the Palme Award at Cannes as well as Special Jury Mention at SXSW and an Honourable Mention for the Sutherland Award at the London Film Festival. JOYLAND is the first feature film from Pakistan to be submitted by the country as their Academy Awards entry and it made further history by being shortlisted for the award.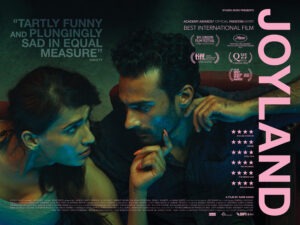 The feature follows a patriarchal family as they yearn for the birth of a baby boy to continue the family line, while their youngest son secretly joins an erotic dance theatre and falls for an ambitious trans starlet. Their impossible love story begins to illuminate the entire family's desire for a sexual rebellion.
JOYLAND is feature debut of writer and director Saim Sadiq, whose previous short film "Darling" won the Orizzonti Best Short Film award at the 2019 Venice Film Festival. The film stars Ali Junejo, Alina Khan, Rasti Farooq, Sarwat Gilani, Sohail Sameer, Salman Peerzada, and Sania Saeed. Cinematography is by Joe Saade ("Costa Brava Lebanon," Broken Keys").
Natalie Edward-Yesufu, film producer and founder of Amplified Enter.Stage.Write competition that platforms Asian and diverse voices is thrilled to be in partnership with Studio Soho and promoting ground-breaking South Asian and Pakistani films in her home town of Birmingham. Natalie said: "Joyland is a brilliant film, and it makes me wonder how many more storytellers like Sadiq are out there with these bold, daring stories. We need more people to see these international stories. These movies will breathe life back into cinema; This is why you must see Joyland on the big screen."
JOYLAND will have a preview Screening in Birmingham at Midlands Arts Centre in Birmingham (MAC) on February 10th 2023.
It will be released in UK cinemas on February 24th 2023.
JOYLAND boldly touches on societal pressures, the dangers of being a Transwoman and part of the LGBTQ community in Pakistan and patriarchal and misogynistic dynamics within Pakistani families. Sadiq weaves all these issues delicately with nuance. 
Trans actress Alina Khan is the lead in JOYLAND; her performance is fierce and sassy. One would never believe this is a debut feature performance. The film was banned in Pakistan, after it was submitted as the country's entry to the Academy Awards. The Ministry of information and broadcasting in Pakistan said: "Written complaints were received that the film contains highly objectionable material which do not conform with the social values and moral standards of our society and is clearly repugnant to the norms of "decency and morality" as laid down in Section 9 of the Motion Picture Ordinance, 1979″. The decision was overturned shortly after, following hard criticism, and the film was released in most provinces but the ban remained in Pakistani Punjab.
Alina Khan says that after the film's international success, her family is more accepting of her trans identity.
Joyland is critically acclaimed, has an IMDB rating of 7.7, and has Nobel laureate Mala Yousafzai and Riz Ahmed Academy award-winning actor as executive producers.
Book Tickets for the Joyland preview and panel with the director and writers on February 10th at 7 pm at the Midland Arts Centre
Please purchase tickets early.
Or Natalie Edwards-Yesufu