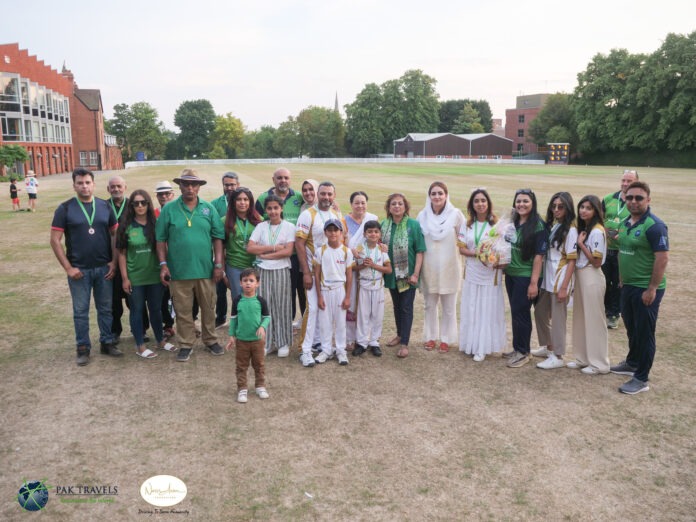 The 10th Annual Fun Day took place on 14 August at Solihull School. A family fun day which included a cricket match between Pak Travels and Nazir Awan Foundation.
Birmingham based travel agency Pak Travels have been organising the annual event for the past ten years and have reached a milestone of raising over £100,000 for Acorns Children's Hospice.
Acorns Children's Hospice supports families and the children with life limiting or life-threatening conditions, with a team of dedicated that offers psychological, emotional and practical support. Their Team of Health and social care professionals provide a range of services, including bereavement support and advocacy, as well as a number of support groups, to find out more about the incredible work they do please visit www.acorns.org.uk
Hamza Waris Said: "On behalf of the Malik Waris family and all of Pak Travels, we wanted to say a BIG Thank You to everyone who supported this year's event.
This year was our 10th year raising funds for Acorns Children's Hospice's and we are confident that we will surpass the £100K mark. This would not have been possible without everyone who volunteered, took part in the day, donated and attended. We were honoured to have Pride of Britain winner Moin Younis attend and discuss his journey at Acorns and shed light on the brilliant care the Acorns team provide to all the wonderful children and their families."
Amer Khan Awan & Nadia Awan from the Nazir Awan Foundation said: "You (Pak Travels) have been supporting us each year and we were delighted to join forces this year to raise funds for Acorns Children's Hospice and celebrate Pakistan Independence Day with family and friends. You both are continuing Uncle Nazirs legacy and we pray the Almighty blesses you in all your endeavours."
Bobby Waris Chairman of Pak Travels said: "Our annual family fun day was a great success and year on year, this event just keeps getting bigger and better! We had record attendance this year and we're excited to raise the bar again next year.
We wanted to give special thanks to Toby Porter – Chief Executive of Acorns Children's Hospice, Richard Bate from Solihull School, Sprint Motor Hire, Keyani Foods, Lahore Village, Jalendar Sweet Centre, East End Foods, A7 Sports for the venue, food, drinks and equipment that make our events so successful and the main man behind the scenes and host Mohammed Arif.
The cricket match itself was testament to the brilliant sportsmanship and calibre of both teams – going into a tense super over wasn't expected but it made the game all the bit more exciting – talk about drama! Pak Travels may have left with the trophy but truly, after the day we had – everyone was a winner!
We look forward to seeing you all next year and hopefully the weather will be slightly cooler!"
To see all the pictures of the event by Edwin Ladd Media click: https://bit.ly/PTvsNAF2022