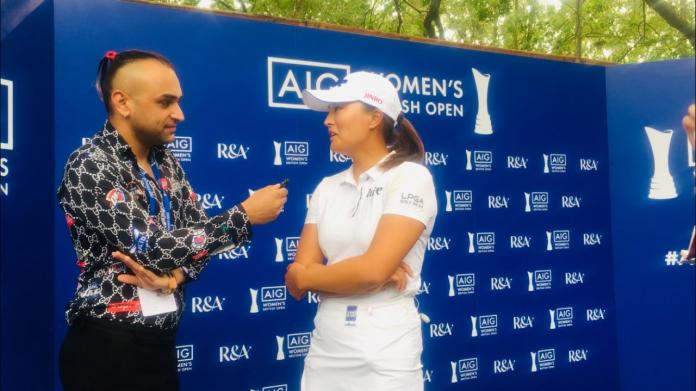 So after four magical days at Woburn, a fantastic Women's British Open comes to a close and Kiran Rai who contributes for the The Asian Today got the exclusive interview with the world number one. Hinako Shibuno lands a major at the very first time of asking. It bears repeating that she's never played on the LPGA Tour before, nor even out of Japan. She's a sensation. Commiserations to Lizette Salas, who came so close to a maiden major victory herself. Congratulations to Atthaya Thitikul, who won the Smyth Salver as low amateur … and of course to the Smiling Cinderella, for a fairytale that will still be told many years from now.
Strip back everything to nothing but the golf, which has been the most entertaining and exciting major championship of 2019?
History will probably mark the Masters or perhaps The Open as the year's most memorable majors. Tiger Woods' cathartic victory at Augusta will be quite rightly regarded in the pantheon, because of all that came before it and all it meant concerning the best player ever to have competed in the sport.
In Ireland, you'll probably never get anyone to say anything other than Shane Lowry's victory at Royal Portrush was not the greatest Open ever played. An Irishman winning on the great historic championship's long-overdue return to the island? I'm not sure I blame them for their hyperbole.
But strip it all back, look at it neutrally and dispassionately (which is what we scribe are paid to do) and my opinion is the AIG Women's British Open at Woburn was the best major of 2019.
This is not political correctness or virtue signalling, whatever they are. As a contest, as golf-fuelled drama, as a finale, the AIGWBO wins hands down.
The Masters, stripped of all the Tiger-redemption stuff, was actually hugely dramatic for the first eleven holes, when Francesco Molinari was getting up and down from all parts, Brooks Koepka was loitering with intent, and Tiger was just about hanging on.
But then Brooks and Francesco drained their balls at the 12th, Tiger didn't, and the contest was effectively over. There was some tension in "can he really do it?" and "is it happening at last?" but there was precious little drama in the actual golf shots for the final holes.
At Portrush, it was even less of a drama – in fact, it wasn't a drama at all. Lowry defended a four-shot lead for most of the final round and eventually won by six. It was the least dramatic Open Sunday since Louis Oosthuizen hosed the field by seven shots at St Andrews in 2010.
This weekend at Woburn, a venue not remotely in the same league as Augusta and Portrush, however, we had the best contest of the year.
Jin Young Ko, aiming to become the latest to win three majors in a calendar year, and Lizette Salas led a double-pronged assault on leader Hinako Shibuno, with Morgan Pressel at their tails.
There was genuine drama and some outstanding golf all the way down the stretch until Shibuno, a genuinely appealing new star playing golf outside her native Japan for the first time in her life, rattled in her 20 foot birdie putt at the last to win her maiden major championship by a shot.
From a pure golf perspective, this was the best contest and definitely the best finish of the year. But…
Lost in a vacuum
You have to wholly concur with those pointing out the rank hypocrisy of Clare Balding, the BBC presenter, who tweeted criticism of Sky Sports' coverage of the AIG WBO.
Sky wound up coverage on Friday an hour before the end of play, which Balding felt required her tu'penny worth. Quite rightly, there were a number of counter-tweets pointing out how the BBC had effectively abandoned golf, and many recalling the 2015 Open.
Play went into Monday that year because of rain delays but the Beeb didn't show the first hours of the extra day because of prior schedules, most notably the absolutely essential broadcast of an episode of "Cash in the Attic".
But I'm pretty sure that Sky is not the best place for the WBO. I'd prefer if all golf was on terrestrial TV or accessible to all for the game to thrive, but the Open will always be a huge event no matter where it is broadcast.
Not so the WBO. Crowds were decent at Woburn but this week at Renaissance we have much the same field for the Ladies Scottish Open. They expect a total crowd of 10,000 spectators, less than a sixth of the numbers who watched the men's event last month.
If we're to grow women's golf – and the numbers of families playing the game as a result – then drama like Sunday desperately needs to be seen.
Terrestrial TV coverage, even if it's not as innovative and glossy as Sky's package, is surely essential for this.
Restore the Scottish Amateur
We're moving in on the centenary of the Scottish Amateur Championship but do the hierarchy at Scottish Golf care? You'd wonder after last week.
Crail GS were proud and fabulous hosts. The players put on a great show. The on-site officials are efficient and professional.
But the championship is now crammed into five days, the final has been reduced to 18 holes, and neither the Scottish Golf chair nor chief executive graced us with their presence.
The Scottish Am was once a great link between the elite amateurs and the club game from where they came, and a reassuring look at the spread of Category A players in this country.
Now, it seems to be almost an afterthought, with some top players not even competing. Restoring a 36 hole final – the R&A manage it fine at the Amateur – should be their first move.
-18: Shibuno
-17: Salas
-16: JY Ko
-15: Pressel
-14: Buhai
-12: Boutier
-11: Ciganda
-10: SH Park
-9: N Korda, Lee6
It's worth noting that Shibuno didn't realise Woburn wasn't a links course until she turned up this week. She had assumed the Women's British Open, like its male counterpart, would take place at the seaside.  
Shibuno talks to Sky through her interpreter. "I'm nervous even though I've won. I still feel like I'm going to vomit! I was nervous on the front nine, but on the back nine I was OK. I produced a lot of birdies. At the end I thought I was going to try but the tears didn't come out. Obviously contending at a tournament like this is nerve-wracking, but I also felt that I was going to enjoy this moment as well. There were many Japanese spectators out there, and I heard them speak Japanese, so I felt like I was playing in Japan! Thank you!"
"With a score of 270, the AIG Women's British Open champion is Hinako Shibuno!" Huge cheers as the champion golfer takes to the stage, trotting across the green to claim her prize in much the same endearing manner she jogs off to pick up her divots. Then, clearly not fluent in English, nevertheless makes a great fist of carefully reading out a thank-you speech. It's beyond charming. She breaks down in giggles as she struggles to phonetically decode some nice words about the greenkeeping staff. Then she pauses dramatically after thanking the spectators. A final "thank you!" gets a huge laugh and the warmest round of applause. She is such an infectious character. A star is born!
But this is all about Hinako Shibuno, who came to this tournament as an unknown, and walks away a star! She could have crumbled after carelessly four-putting the 3rd green. However she dug in and for the second day in a row, battled through a sticky patch before ripping up the back nine. She played it in 31 shots today. She played it in 30 yesterday and on Thursday. She's played the back nine in -18 this week! Which coincidentally is the total she finished with. Golf: a game of two halves, huh?
-18: Shibuno
-17: Salas
-16: JY Ko
-15: Pressel
-14: Buhai
-12: Boutier
-11: Ciganda
-10: SH Park
-9: N Korda, Lee6
Par for Ashleigh Buhai, who ends the week with a decent 70. She ends in fifth spot at -14, and despite her crushing disappointment warmly embraces the new champion. Wild scenes on the 18th as the 20-year-old Japanese debutant cavorts in glee, smiling the widest smile. But spare a thought for poor Lizette Salas, who shot a carpe-diem 65 today, her final birdie effort lipping out from four feet. You can see the world crumbling in her eyes as she's informed of Shibuno's birdie. It will hurt for a long time. But hers was a brilliant performance too. Second spot, her best finish at a major, and if it wasn't for her, this final round wouldn't have been the hugely entertaining rollercoaster it was. Hopefully her day is still to com
into the hole, jumps up a little, and then dunks into the hole. She's won on her major-championship debut! On her LPGA Tour debut! On her first competitive outing outside Japan! This is a story for the ages! Smiling Cinderella will go to the ball!
-18: Shibuno
-17: Salas
Hinako Shibuno strides up the fairway, basking in the applause, soaking up the love. She bows graciously in all directions. Meanwhile on the putting green, Lizette Salas keeps herself warmed up in a slightly agitated fashion. She must be in turmoil right now. Shibuno steps up, and …
Buhai also looks exceptionally dejected, but she arrows her second into 18 to 12 feet nevertheless. Then it's all down to Shibuno, who whips her approach straight at the flag, and smiles broadly, infectiously, as it travels towards the green. Her ball lands 15 feet shy of the hole. She'll have that for birdie, and the 2019 British Open championship!
A disappointed Pressel lets her six-foot par putt slide by the right of the cup. That'll cost her a few pennies. A bogey. She shot 66-67 over the weekend, and after a long period in the doldrums, the 2007 ANA Inspiration winner is back competing at the top table. She's -15. Bogey for Park Sung-hyun too. She takes a ludicrous amount of time over a short par effort, to no benefit whatsoever. She ends with at 73, another no-show on a Sunday. She's -10. Park having taken so long over that putt, I wonder how nervous Shibuno is getting back down the fairway?