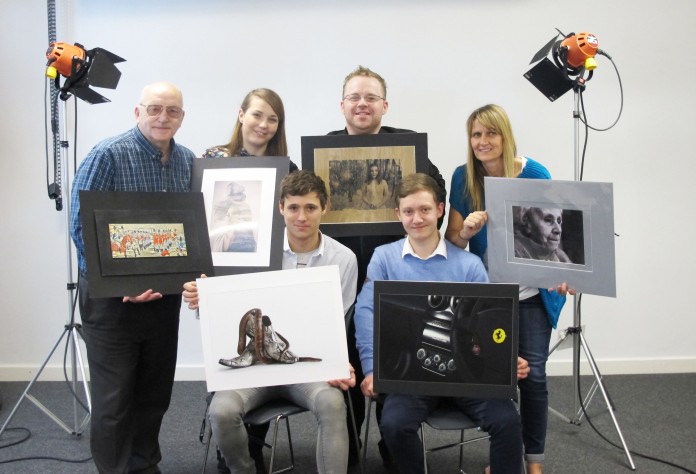 ​HNC, HND and Degree (level 6) Photography students took part in the recent Midlands regional BIPP Annual Print Competition which saw them enter into a number of categories including Illustrative, Commercial and Advertising.
Following a tough judging process, with competition from a number of top universities, Degree students, Damian Addis and Luke Smith were awarded with 1st place trophies in the Professional Advertising and Student categories, respectively, while HND student Fruzsina Schreck received a merit.
In addition former Degree students, Kristofor Green, Tracy Watkins-Smythe and Michael Scott were named as runners-up in the Professional Portraiture, Illustrative and Friend of the BIPP categories, respectively.
The college was awarded with affiliation to the BIPP in 2013 in recognition of the professional teaching standards on its Photography courses.
The BIPP is an internationally recognised qualifying organisation with over 100 years of experience in supporting photographers, and only a handful of institutions across the UK have gained BIPP affiliation. The core aims of BIPP are to train, qualify and support professional photographers.
Photography Lecturer at Walsall College, Ian Male, said: "This is the third consecutive year our students have achieved success in this prestigious competition. We are delighted their talents have been recognised and it is a great credit to Damian in particular that his work as a student has been recognised in the professional category."
Head of Curriculum for Photography, Alan Tyler said: "We are committed to working in partnership with professional bodies to ensure students gain the highest level of skills in line with industry standards, and are delighted that their talents have been recognised by the BIPP.
"Encouraging students to enter industry competitions is an important element of all our HE photography courses to ensure their skills are challenged and stretched, helping them achieve their full potential.
"Due to the increasing popularity of our HE Photography courses we have now launched a Level 3 pathway starting in September, which is ideal for school leavers and will allow them a route into this exciting and growing profession."