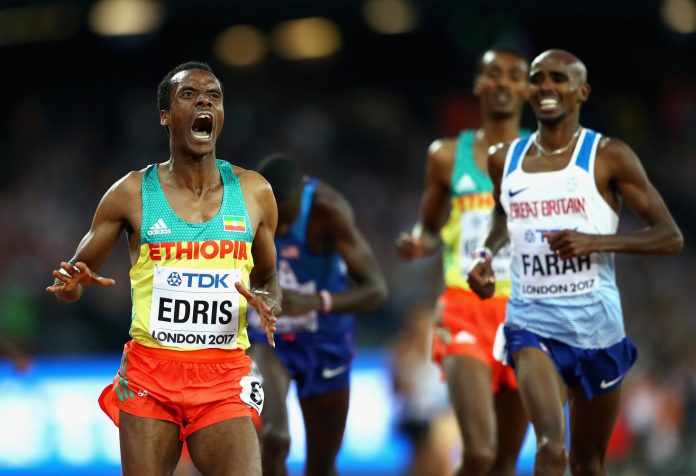 Distance running all-time great Sir Mohamed Farah finished second behind Ethiopia's Muktar Edris to miss out on a fifth consecutive World Championship double.
The 34-year-old, who won gold earlier in the Championships in the 10000m, was in a strong position throughout the race before being overtaken by Ethiopians Edris and his teammate Yomif Kejelcha. Farah looked destined to finish outside of the medals before recovering and forcing his way into second.
The four-time Olympic champion look devastated after the race as he lay on the track following the shock.
He rose to eventually take a deserved lap of honour around the London Stadium track taking in the applause from an adoring crowd of 60,000.
Afterwards he spoke on the race and reflected on his legendary career,
"It's been a long journey but it's been incredible,
"It didn't quite hit home until after I crossed the line and had a couple of moments to myself when I realised – this is it.
"I gave it all – I didn't have a single bit left at the end."
Mo will be in Birmingham next week on the 20th for the Diamond League at the Alexander Stadium before going to Zurich for the Diamond League final.
Sir Farah will finish with a record that will cement his place as arguably the greatest distance runner in history with ten golds and two silvers in major championships.
23 -year-old Edris gave his rendition of the 'Mobot' following his sensational shock win in which he stuck with Farah throughout the race before pushing away for the final 100 metres. Farah looked comfortable in what was a relatively slow race until the Ethiopian created what proved to be an unassailable lead for his first major title.
"The 10,000m took a lot more out of me than I realised," said Farah.
"I was trying to cover every move but they had a game plan – one of them was going to sacrifice himself and that's what they did and the better man won."
Edris spoke after his triumph, "I was highly prepared for this race and I knew I was going to beat Mo Farah.
"I am the new champion for Ethiopia, that's why I did the 'Mobot' – I am the next champion."
Farah mentioned about how his earlier career doubts almost pushed him out of the sport.
"Back in 2008 at the Olympics I was so disappointed [at not making the 5,000m final] and I didn't know what to do with myself, whether to carry on with the sport," said Farah.
"I had to decide what it took to become a champion and that was to move to the other side of the world – nothing was guaranteed but I took that chance.
"This London crowd is amazing – there is no place like home.", he said of an ever-boisterous crowd.
"I have a few more races on the track, then I will take a short break and then this chapter of my life is closed."