 Head teacher Balwant Bains Resigned Last Month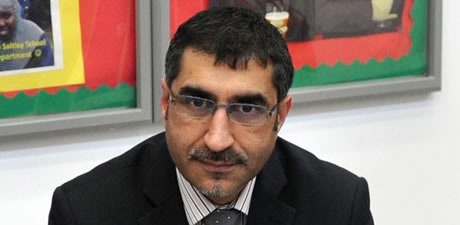 A Head teacher in Saltley has resigned in protest after an Ofsted report criticised his relationship with the school governors.
Head teacher Balwant Bains revealed he was to step down in a letter sent to all parents. In it he told shocked parents that he can "no longer carry out my roles and responsibilities at the school. I have made the brave and difficult decision to leave Saltley School with effect from Friday November 15."
The issue started when Mr Bains excluded a disruptive student who had threatened classmates with a knife. Governors overturned the decision; a decision which led to teachers voting not to teach the pupil; collectively. At the time Mr Bains had stated that the "issue had been dealt with through due process" and that the pupil in question would not be returning; adding that he had "total confidence in the safety of staff and pupils." It was a decision that was reversed by governors. A spokesperson for the NASUWT admitted that the situation was very unique. "We are currently in negotiations with the management of the school in the hope of avoiding any further action. We hope to continue our negotiations and reach a compromise that will avoid any further action."
Criticism mounted on the school with Ofsted making an unannounced visit and calling the relationship between the school and governors "dysfunctional" with a "lack of trust."
Ofsted Inspector Jane Millward said, "Having considered all the evidence I am of the opinion that at this time the dysfunctional relationship between the governors and the head teacher is damaging the school's capacity to improve. There is a lack of trust between the two parties and each holds contradictory views about their work and performance of aspects of school life. As a result there is no cohesive drive or shared vision on how to improve the school."
In a statement, Birmingham City Council said, "The head teacher is currently on leave and will not be returning to the school," he added. "We have worked continuously with both the head teacher and the governing body to address issues around the school including points raised by Ofsted this month."
Liam Byrne, Member of Parliament for Birmingham Hodge Hill, "Ofsted made an unannounced inspection the other day, issued a very stiff set of demands for immediate action and it is now for the governors to respond with an plan.
"Officials from Birmingham City Council met the school governors at length on Wednesday night to ensure everyone is clear about their obligations – and any failure to address the Ofsted report will trigger a follow-up investigation very, very swiftly."
He was, although praised by Ofsted for turning around the school; and in particular the behavior of student."