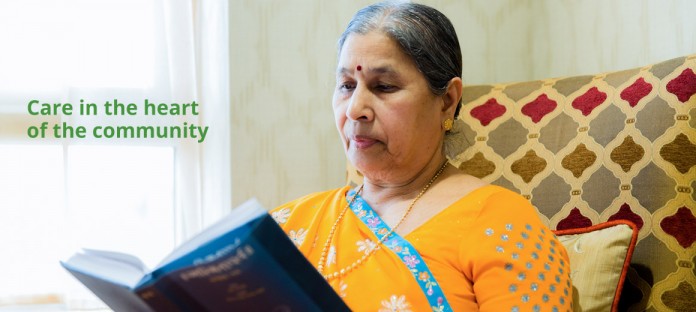 When: Friday 19th May
Time: 11 am
Where: Karuna Manor, Christchurch Avenue, Harrow, HA3 5BD
In support of Dementia Awareness Week from 14 – 21 May, Karuna Manor Care Home in association with bloom™ Hearing Specialists have teamed up for great event for residents, non-residents and their families.
Early diagnosis and treatment of hearing loss can help to reduce risk of Dementia
Untreated hearing loss is linked to Dementia, so the aim of the event is to highlight the importance of looking after hearing early on. Attendees will be able to speak directly with an expert and find out about the options available to reduce the rate of progression of hearing loss as well as improving quality of life and independence.  There will also be Free Hearing Screening Tests offered as well as complementary tea, coffee and cake for all.
Dementia is being deemed to be one of the main causes of death in the 21st century, yet understanding remains low, with many suffering silently.[i]  Having a loved one suffering from even mild hearing loss can be a challenge.  The aim of the event is to encourage a thoughtful discussion about hearing loss, and to raise awareness on how left untreated can increase the risk for dementia.
Studies have shown that individuals with mild to severe hearing loss are at a greater risk for developing dementia as they age; even when taking other factors associated with high risk of dementia into consideration, hearing loss was found to be a strongly related as it can accelerate cognitive decline as we age if left untreated. [ii]
Sue Nicholson, Marketing Director at TLC Care commented:
"Whatever type of care an individual may need, TLC Care offer bespoke services to meet personal requirements.  All our homes offer tailored care for residents that are experiencing memory loss because of Alzheimer's or other forms of dementia.  We know from experience that hearing loss is an important contributing factor to dementia and we want to work with bloom Hearing Specialists to help more people understand this link and get help sooner."
James Carmichael, Audiologist at bloom™ Hearing Specialists commented:
"Hearing loss affects people in different ways. At bloom™ Hearing Specialists we want to encourage an open discussion with everyone about the importance of good hearing health, the connection to dementia and the effective treatment options available for this often distressing and debilitating condition. We hope residents and non-residents will come in and talk to us about their concerns."
For further information please contact Parveen Singh on 020 3837 1013 or email parveen@wallacehealth.co.uk
[i] https://www.alzheimers.org.uk/