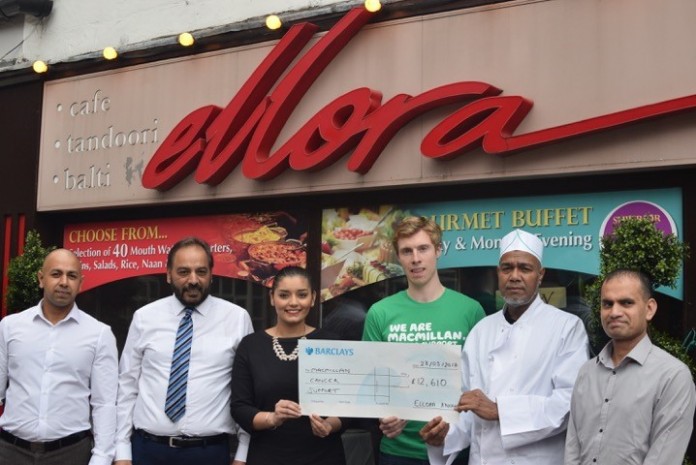 A popular award-winning Indian restaurant in the West Midlands has donated over £12,000 to Macmillan Cancer Support, the national cancer charity.

Staff from Ellora, situated on the main High Street in the village of Knowle, handed over a cheque for £12,610 to Sam Greatrex, Macmillan's fundraising manager for South Birmingham and Solihull.
Mr Greatrex said: "We are very grateful for this donation. No one should have to face cancer alone and with support like this, they won't have to. This donation will go a long way to helping us be there for people with cancer and their families."
Ellora's manager Mr Mash Hakim said:
"It makes us enormously proud and gives us great satisfaction in giving back to the local community whose loyalty and sincerity continues to motivate us."
Mr Hakim extended his thanks to the four representatives – May, Meena Rani, Perdeep Chagger and Kiran Johal – from Barclays Bank PLC's Citizenship Team who gave their support during Ellora's Bollywood-themed fundraiser which was held in September last year. Barclays Bank PLC also contributed towards this donation.
Founded in 1968 – the year in which for the first time in history humans orbited the Moon (Apollo 8) and revered leaders Martin Luther King Junior and Robert F Kennedy were assassinated – Ellora prides itself on its exemplary cuisine and its loyal customer base.
Last September's family-friendly fundraiser, which was organised to mark Ellora's 47th anniversary, was attended by many, including the Mayor and Mayoress of Solihull, Councillor Mike Robinson and Mrs Jenny Robinson, who shared their personal story of how they lost their 36-year-old daughter, Emma Walker, to cervical cancer in February 2010.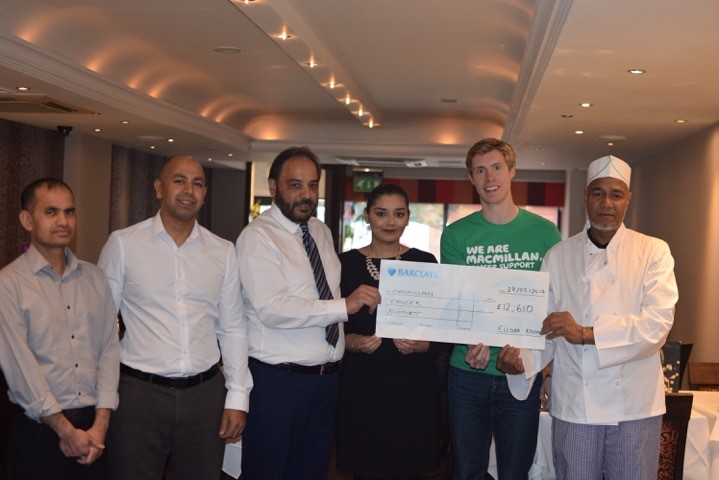 "Emma fought it all the way," said Mike, fighting back tears. "The hardest thing for me was when she asked me 'I'm not going to die, am I Dad'?
Also present at this historic occasion was the founder and original owner of the Ellora, Devi Compton. She, along with her Late husband Sayeedur Rahman ran the Ellora from 1970 – 2001.
"I feel honoured that the new owners since 2001 decided to keep the name Ellora going. It is not only a superb restaurant, but an institution," said 64-year-old Mrs Compton.
The evening featured a five-course meal, Bollywood dances, a raffle draw and auction, a henna artist, a cake-cutting ceremony, speeches, a sitar player and more. In addition, to mark the Ellora's 47th anniversary, a special souvenir was unveiled which featured goodwill messages from Her Majesty The Queen, actor Nitin Ganatra,  MPs Julian Knight and Jess Phillips, popular comedian Shazia Mirza and Lord Karan Bilimoria, founder of Cobra Beer.
Among well-wishers who sent a goodwill message was world-class celebrity chef Gordon Ramsay OBE. He said:
"Congratulations to the team at Ellora on reaching 47 years. We are a nation of curry lovers and to impress upon your customers is a skill in itself. I'm delighted to hear of your news and send you my best wishes for the fundraiser dinner. Well done!"
Knowle is a village situated 3 miles east southeast of the town of Solihull, West Midlands. It lies within the historic county boundaries of Warwickshire, and since 1974 it has been part of the Metropolitan Borough of Solihull within the west Midlands. It has a population of around 11,000 residents.
To see the full Menu, event flyer and for more information about the restaurant visit www.elloraknowle.co.uk