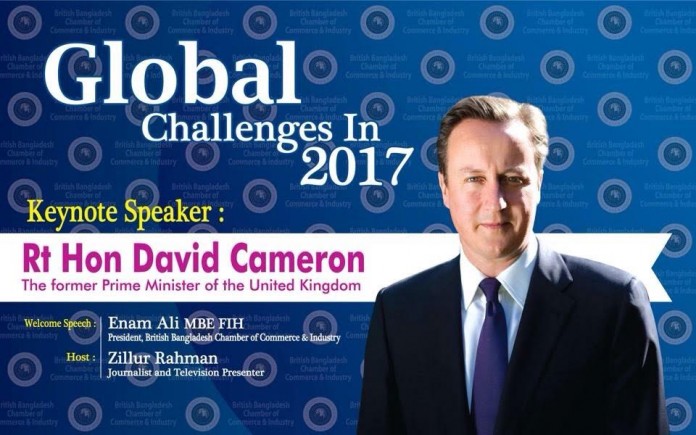 Friday 28th April 2017, Dhaka, Bangladesh
Former British Prime Minister, David Cameron, arrived in Dhaka on 26th April, on a two-day visit to Bangladesh. He met with Prime Minister, Sheikh Hasina, and termed Bangladesh a "shining example". The event marked his first ever visit to Bangladesh since he stood down on the back of Britain's vote to leave the European Union last year and kept seeking apology for not making it happen before.
On 27th April, he attended the 'Global Challenges in 2017' event, organised by Enam Ali MBE– one of the most prominent British Asian personalities in the UK, known as the British Curry Awards ('Curry Oscars') Founder as well as being an unofficial ambassador for both Britain and Bangladesh, promoting trade and investment opportunities and cooperation between both countries, As President of the British Bangladesh Chamber of Commerce and Industry, Enam Ali MBE welcomed the former British Prime Minister at the Four Points Hotel by Sheraton in Dhaka.
The event was hosted by prominent TV broadcaster Zillur Rahman, while guests included Cabinet Ministers, MPs, Diplomats, High Commissioners, Senior Politicians, University Chancellors, BBCCI directors, bankers, senior academics, senior economists, media personalities, broadcasters and British Bangladesh expats.
David Cameron delivered a speech on the quality of democracy from a global perspective, eradicating corruption and the fight against terrorism and violent extremism as global challenges. He expressed his views on governance, the rule of law, accountability and ensuring the rights of all, emphasising that democracy is not all about elections.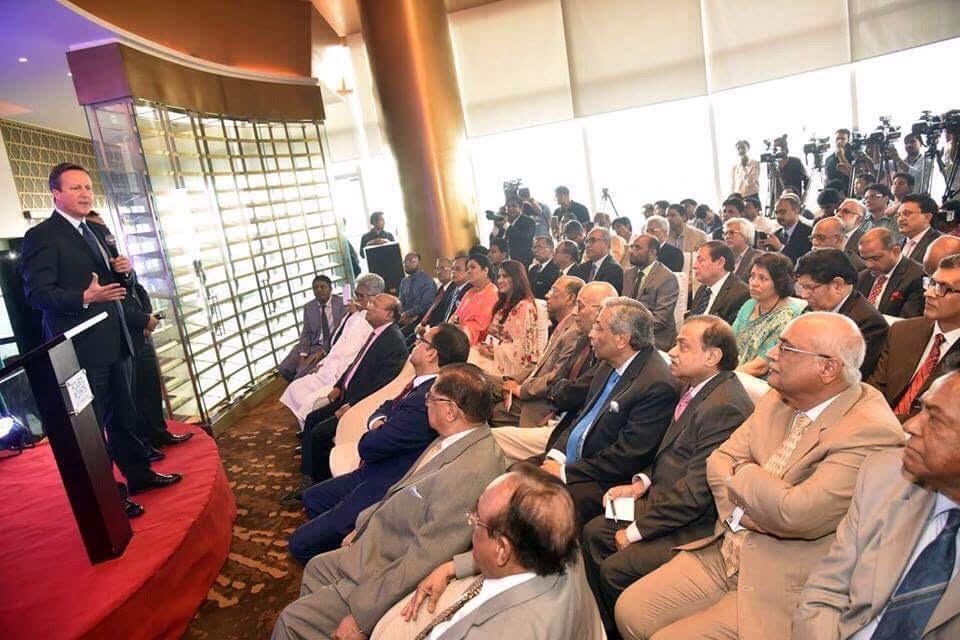 Enam Ali MBE said, "It is my immense pleasure to welcome the Former British Prime Minister, David Cameron, in Bangladesh and it is my duty to develop further the ties between the two countries and bilateral trade. David is very popular in Bangladesh. He is not only my friend, but is the true friend of 120 million people in Bangladesh."
Zillur Rahman said, "I have interviewed over 3,500 influential people during my career including top politicians, civil military bureaucrats, business leaders, showbiz and sports personalities. Today, hosting the Global Challenges in 2017 with Britain's former Prime Minister David Cameron as keynote speaker, I feel hugely honoured and privileged."
The visit of David Cameron will surely bring both countries closer.
Join the conversation:
#GlobalChallenges