 Sheeba Khan's Latest Song Features Apache Indian

After the success of 'Aey Kaash' and 'Hum Kabhi', Sheeba Khan is back with her new single 'Pagal Jiya', collaboration with the top UK vocalist and reggae artist Apache Indian.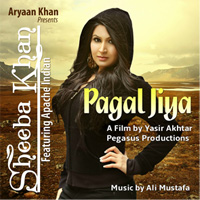 Sheeba and Apache have taken a simple but catchy tune and turned it into an upbeat Reggaeton song which will touch hearts. The music was arranged by the Dubai based musical wizard Ali Mustafa. Executive producer Aryaan Khan roped in multi-talented Yasir Akhtar of Pegasus Productions to create stunning visuals that bring the track to life.
Sheeba tells her story: "I spent part of my life in the US and then moved to London, which in my personal opinion is 'the best city in the world'. My latest work 'Pagal Jiya' is a romantic fusion of East and West, targeted towards British Asians. People often compare me to Nazia Hasan and for me that's the biggest complement I could receive! I have recently released a remix of Nazia's 'Koi Nahin', which can be heard on my Soundcloud."
Sheeba is a fan of many genres of music from Nusrat Fateh Ali Khan, Lata Mangeshkar to Beyonce and Rihanna. She adds: "Music touches my soul. Life is much like a song. In the beginning there is adventure, in the end there is confirmation, but it's in the middle where all the emotion resides to make the whole thing worthwhile."
Sheeba feels emotionally linked to the music she makes: "All of my songs including 'Pagal Jiya' are more than just what I hear. When I'm connected to something, I am immediately tied to a feeling or an emotion, a memory from my childhood, thoughts about life, my dreams or my fantasies and they're all connected to the music.

"I am thankful to Aryaan Khan for believing in my talent. The legendary Apache Indian for joining hands with us in this collaboration, Ali Mustafa for making this venture musically strong and Yasir Akhtar for filming 'Pagal Jiya' and making it a sumptuous feast for the eyes".
Stay tuned for more music from Sheeba Khan, this is just the beginning!
'Pagal Jiya' is OUT NOW on iTunes and other digital stores.