 The Song By Manjit Sahota Features Bunty Bains and Desi Crew

MP4 Records and Khaas Banda Productions are proud to present the high pitched and classical trained vocalist, Comedian, Actor and Writer, Manjit Sahota.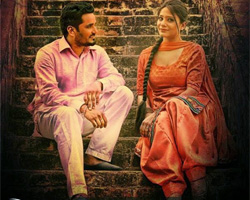 He is set to release his new single 'Chete Kareya' on 18th March 2015. Manjit Sahota was raised in a village called, Jagdev Kalan near Amritsar. From 6th class in school, Manjit Sahota started singing at the young age of 12 and went on to being the school topper in performance and entertainment. Manjit Sahota started his career in 2008 on Doordarshan, as an actor in daily soaps such as 'Kaalu Sekchili' (as a main actor), 'Nit Vaisakhi Aave' and 'Koka Sajna Da' (as a singer), King Kaun Hasean Da (as a comedian).
Manjit Sahota took part in the comedy show of 'Laughter Da Master Season One' on PTC, in which he stood as finalist. He went on to reaching top spot on season 2 and receiving best performer in season three.
The multi-talented Manjit Sahota has written all the songs within the Punjabi movie 'Sikander'. He has also sang two of the songs in the film, the title song; a hit song and Yaari Sardaari. In 2014 Manjit Sahota collaborated with Rupinder Handa to release a special romantic song called 'Pyar' released on Valentines Day, the song received a great response with his fans. In November 2015 Manjit Sahota released a sad song called 'Jaane Meriye', with music by Rupin Kahlon and lyrics by Nimma Loharka .The song received a great response.
The single that MP4 Records and Khaas Banda Productions are releasing is 'Chete Kareya', with music by Desi Crew, written by Bunty Bains and with highly acclaimed video director Pejimia.
"I am very happy to be working with Bunty Bains Paji and MP4 Records team, as they are a very talented and hard-working team. I look forward to the release of 'Chete Kareya' and hope that all my fans continue to support me and MP4 records, so that we can bring more songs for you in the future." Manjit Sahota
Chete Kareya is out now.