 Beat More Than 500 Young Players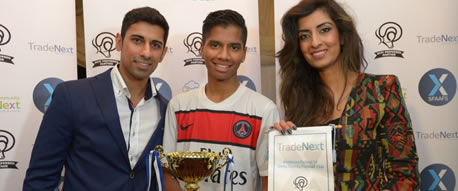 Talented Asian footballer Raj Vijayarajah [corr] has won the nationwide Search For An Asian Football Star competition.
Central midfielder Raj, 16, from Ilford, Essex, beat more than 500 young players to lift the SFAAFS Winner's Cup – and a series of great prizes that could change his career in football.
Raj said: "To win Search For An Asian Football Star really is a dream come true. The prizes are amazing. I will be going to a Trials Day in front of scouts from Premier League and Football League clubs. I will train at the Football Association's St George's Park Centre of Excellence.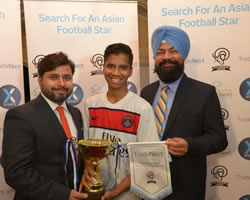 "And I get a week with the top coaches at the TradeNext Football CV Academy. At the moment I just train at school. I don't play for a team. I was shocked when my name was announced as the winner. But I think the judges saw my hunger and passion during the Final. I want to say thank you to my dad who brought me here today. He has supported me all the way through SFAAFS."
Arsenal Football Club scout Tony Day, top freestyler Abbas Farid, BBC Asian Network presenter Noreen Khan and TradeNext Chief Executive Officer Mohsin Jameel formed the judging panel at Wembley Powerleague on Saturday November 8.
Abbas said: "Raj stood out in his age group during the Final. But it wasn't an easy decision. The standard of football was exceptionally high. It took us a while to agree that Raj deserved to be crowned the SFAAFS winner."
Raj entered the SFAAFS at the London Docklands event last month [October], and immediately caught the eye of the FA-qualified coaches.
In the Final he stood out in the Under-16 category against nine other top players from across the country. Raj received his Under-16 Winner's Cup and the SFAAFS Overall Winner's Cup from TradeNext CEO Mohsin Jameel.
Mohsin said: "This has been an exceptional success as a first-time sporting event for our company. We are already enjoying a Preferred Partnership with Derby County Football Club. We are enormously proud of our Search For An Asian Football Star competition – and very impressed by the standard of the players we have seen."