 Campaign launches today, to drive awareness of blood in urine as a key symptoms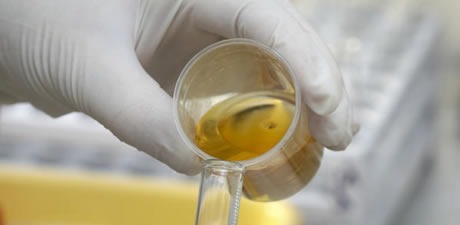 Receiving an early diagnosis increases the chance of survival for the 16,600 people who are diagnosed with bladder or kidney cancer every year in England.
A new NHS Be Clear on Cancer campaign launches today, to drive awareness of blood in urine as a key symptom of bladder and kidney cancers, and encourage people to visit their doctor if they spot the symptom, even just the once.
One of the reasons people do not receive an early diagnosis is believed to be the public's lack of awareness of the key symptoms. Blood in urine – even if it appears just the once – could be a symptom of both bladder and kidney cancer. However, new figures show that the public don't recognise the seriousness of the sign – almost a third (30 per cent) of people would wait and see if they spotted blood in their urine again before taking any action, which could delay their diagnosis.
It is also believed that within South Asian communities there are cultural and religious reasons that can prevent people from seeing their doctor early. There is often a strong fear of cancer, a perception that cancer is an incurable disease that quickly leads to death. Some believe that by talking about it is tempting fate. But finding it early makes it more treatable so if your notice blood in your urine tell your doctor straight away.
Professor Kevin Fenton, Director of Health and Wellbeing at Public Health England said:
"Early diagnosis and treatment of bladder and kidney cancer can save lives. We need to overcome the barriers preventing people presenting early to their doctors so that we can save more lives across all communities."
"Our message is clear – as soon as you spot blood in your urine, visit the doctor. It's probably nothing serious but it could also be a sign of something else that needs treatment, so don't ignore the symptoms or put off a trip to the doctor."
Visible blood in urine is a key symptom in around eight in ten bladder cancers and over half of kidney cancers. However, when the public was asked to name cancer signs and symptoms, only a third (33 per cent) of people mention unexplained bleeding. 
Dr Anant Sachdev, Cancer Lead for Bracknell, Berkshire
said:
"It is alarming when blood is noticed in the urine – and ignoring this is not an option – see your doctor as soon as possible!"
"Blood in the urine can be for many reasons including infections and indeed cancer of the bladder or kidney. This must not be ignored and I would urge any person who has blood in their urine to see their doctor straight away. After an assessment your doctor may refer you to the hospital for further tests."
"If cancer is found, early and timely diagnosis will result in a good long term possibility of survival."
Blood in your urine is the most common symptom for both types of cancer. Other bladder cancer symptoms include needing to urinate very often or very suddenly and/or pain while urinating. Other kidney cancer symptoms include a pain below the ribs that doesn't go away or a lump in your stomach.
The Be Clear on Cancer campaign will see new national adverts running on TV, print and radio from 15October until 20 November. As well as face-to-face events taking place across England. Symptom cards are available in Bengali, Gujarati, Punjabi and Urdu on Cancer Research UK's website.

For more information on the campaign, bladder and kidney cancer visit nhs.uk/bloodinpee.