 Aaryan Karim's Search for a Superhero
Aaryan Karim is a three year-old boy who loves chocolate, cheese and superheroes. He also has leukaemia. Now the search is on for a superhero who can save Aaryan's life.
In August this year, Aaryan's parents from Sydenham, London were given the shattering news that their happy and lively three year-old son had leukaemia. Aaryan and his parents were in Edmonton, Canada at the time due to Aaryan's father's work as a business analyst.

 

Aaryan's dad, Naheed Karim, speaking from Canada where Aaryan is now being treated, said: "Aaryan was feeling ill and had  symptoms of a cold for about six weeks. We went to the doctor's several times here in Canada, and eventually we were referred to go to A&E under suspicion of anaemia.
Unfortunately, we were turned away without a blood test from the hospital.  He was still ill so we took him into family doctors the next day and were told to wait until his current suspected infection subsides before he had a blood test. His symptoms persisted for several days though and did not subside.

 

"Ten days since we went to A&E originally, we decided to take him back there as he was complaining of blurry vision.  This time they did a blood test and immediately found really high number of white blood cells which indicated he had leukaemia. Two days later it was confirmed to be Acute Lymphoblastic Leukaemia."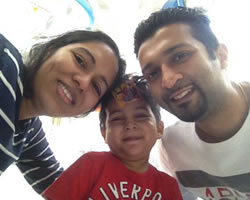 'We want to give children like Aaryan the very best possible chance of a cure' Since his shock diagnosis, he has undergone a month of gruelling chemotherapy, which unfortunately has not worked well, and now his doctors have told the family that Aaryan may need a bone marrow transplant.
But Aaryan has no siblings, and the transplant can only take place if a selfless stranger can be found who is willing to donate their stem cells to save Aaryan's life. The family are urging people back in the UK to sign up to the Anthony Nolan register, particularly those from Asian backgrounds.

 

Aaryan is from an Indian background, which will make it more difficult for Anthony Nolan to find a matching donor, as people from Asian communities are underrepresented on the bone marrow register.

 

 "We want to give children like Aaryan the very best possible chance of a cure," said Ann O'Leary, Head of Register Development at Anthony Nolan. "Like many other people fighting blood cancer, Aaryan needs to find a donor whose tissue type matches his own. That person is most likely to come from someone from the same ethnic background as Aaryan.
"But at the moment, less than 60% of patients are able to find a 'perfect' match, and this falls to just a 1 in 5 chance if you're from a black, Asian or ethnic minority community. By building and diversifying our register, we will be able provide the best match to even more people with blood cancer, so we urgently need more people to sign up to save a life." Calling on all superheroes Since we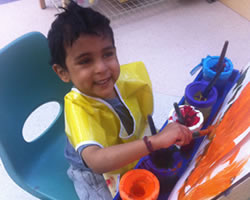 established the world's first bone marrow register, other countries have set up their own and there are now more than 22 million potential donors worldwide. Today, when someone needs a bone marrow transplant,  Anthony Nolan searches the combined registers to try to find a matching donor, breaking down international barriers in order to save lives.
"As our 
Hero Day
 approaches (21 November 2014), Aaryan's family are calling on all everyday superheroes to come forward and either join the register or support the charity. The day will see the return of lifesavers across the country raising vital funds and awareness for Anthony Nolan."

 

"Aaryan's body is struggling to fight this battle alone," said Naheed, 33. "Please try to help our little boy, by joining the Anthony Nolan register – all you have to do is give a small saliva sample, that's it. But it could be the most heroic thing you ever do for another family."