 10,000 Fans Gather at the O2 Arena For the Bollywood Showstoppers Concert



The O2 arena witnessed a packed house on August 3rd with 10,000 fans cheering their favourite superstar at the Bollywood Showstoppers concert. Jacqueline Fernandez, Shahid Kapoor, Sonakishi Sinha, Mika Singh and Ali Zaffar gave audiences a night to remember with their power-packed performances.

Supported by the talented Bolly Flex dancers, the beautiful Jacqueline Fernandez was up first, she danced to some of her hit songs such as 'Jadoo Ki Jhappi' and 'Jumme Ki Raat' from her mega hit film Kick.  She expressed " I'm loving every moment being on this stage for an audience like you, I hope you enjoy yourselves as we have a lot in store for you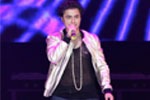 Next up was the melodious Ali Zafar who was one of the favorites with the audiences. His first act consisted of songs from his solo material such as the cool 'Sun Re Sajaniya,' the romantic 'Rangeen,' as well as the incredibly catchy 'Channo.'  He emotionally expressed " This event is key as it is bringing together Indians, Pakistanis and Bangladeshi people under one roof to celebrate music. It is a great feeling to be here". 
Following Ali was a high-energy performance by Sonakshi Sinha, who was very excited to be performing in front of a UK audience for the first time. Sonakshi delivered some amazing dance moves and chose some great songs to dance to such as 'Rani Tu Main Raja,' 'Tamanche Pe Disco,'. Little did the audience know that Sonakshi would be surprising them all by bringing Yo Yo Honey Singh himself onto the stage, which led to a noisy cheer amongst the audiences. 
Mika Singh known to bring the roof down at performances,  made sure he did just that by getting the audiences off their seats dancing to his tunes. Mika sang to vibrant tunes like 'Subha Hone Na De,' 'Mauja Hi Mauja,' 'Saj Dhaj Ke' and of course his recent hit 'Jumme Ki Raat.' He expressed " I've done 200 shows in this year alone and I know exactly what my audiences love, I'm so happy my first UK performance was so well received".
The most anticipated act was from Shahid Kapoor who dance moves were what we would expect from a perfectionist like him. The popular actor danced to songs like 'Dhan Te Nan,' 'Mauja Hi Mauja' and 'Move Your Body Now' during his much anticipated first act. His second act consisted of more dance-oriented tracks like 'Saree Ke Fall Se,' and 'Gandi Baat' from his most recent film R…Rajkumar (2013).  He expressed " It was an honour to perform to a packed house at the O2 arena."