 Winning British Asian singer, Navin Kundra performs at St James Palace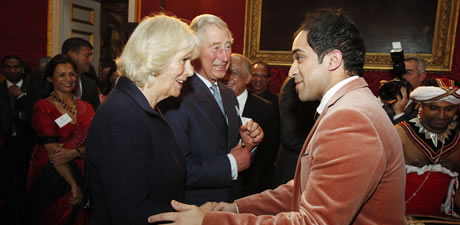 Award winning British Asian singer, Navin Kundra, was invited to perform for TRH The Prince Of Wales and The Duchess of Cornwall with distinguished guests last week at their South Asia Pre-Tour Reception held at St James's Palace. 
 The multi-lingual singer, who was awarded '2013 Entertainer of the Year' at the Houses of Parliament, said "It's a real honour to be invited to perform for the royals in such a monumental Palace – this is definitely one of the biggest highlights of my career so far".  Navin added, "I knew that expectations would be extremely high as Kylie Minogue performed last year for TRH's Australia Pre-Tour Reception." 
After topping the Asian charts six times over with his singles, Navin was invited to become an official ambassador for The British Asian Trust, founded by The Prince of Wales.  Since then, he has helped the trust raise in excess of £10,000 and his music was used to break a Guinness World Record for the biggest Bollywood dance to his smash hit song, 'Mehbooba'.
 In a light hearted moment during his performance, Navin taught The Prince Of Wales how to say 'Mehbooba', meaning 'beloved', and The Prince Of Wales responded with a flawless delivery of the Hindi word to rapturous applause and cheers from everyone in the Palace.  "That moment was a dream come true for me – Prince Charles was a great sport with a unique charm and I hope the new addition to The Prince Of Wales' vocabulary will be used frequently on his upcoming tour", said Navin. 
The singer who performs in English, Hindi and Punjabi has amassed a huge international fan following and millions of hits on Youtube.  "I create fusion pop music, mixing influences from the east and west so it sounds fresh yet familiar to most ears", explained Navin.  Speaking on his last number 1 single, 'Shudaayi', Navin said "I fused a Dutch house beat with Punjabi and English lyrics, and to top it off, the music video featured the stunning ex S Club 7 star, Tina Barrett."
Following his royal performance at St James's Palace, Navin is now gearing up to release his forthcoming single, 'PA NA NA' on November 7th.  Laced with an instantly recognisable sample of the 70s hit 'Sunshine Day' by legendary Afro-pop group Osibisa, this song has already got crowds dancing and screaming across the country.  "I hope to break new boundaries with my new music and would love for this record to reach wider audiences, especially now that I have had compliments on my music by the Royals", said Navin. 
For more information on Navin Kundra and exclusive updates on the new single,
'PA NA NA' releasing Nov 7th
, visit
www.Navin-Online.com
.