 Warsi has hosted a UK-Pakistan event to strengthen partnership in energy sector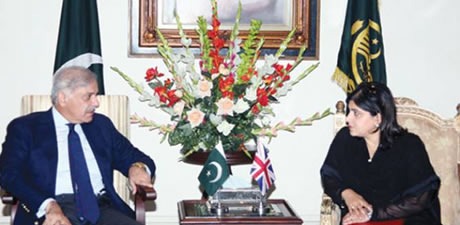 Baroness Warsi has hosted a UK-Pakistan event to strengthen partnership in the energy sector. Lots of opportunity for UK business
Senior Foreign Office Minister Baroness Warsi and Chief Minister of the Punjab Mian Muhammad Shahbaz Sharif today co-chaired a UK-Pakistan energy event to strengthen the partnership between the two countries in the energy sector and address the energy challenges in Pakistan. The event provided an opportunity for UK business to learn more about the energy sector in Pakistan, potential opportunities and to make business contacts for future energy projects.
Attendees at today's event included Khawaja Muhammad Asif, the Federal Minister for Water and Power; Ishaq Dar, Minister for Finance; Khurram Dastagir Khan, the Pakistan Minister of State for Commerce; members of the Punjab Board of Investment and Trade; and representatives from UK business.
Following the meeting, Baroness Warsi said:
"The most important aspect of today's event was bringing people together and making connections that can lead to real business outcomes.  Pakistan is an investor-friendly economy offering opportunities in solar, hydel, hydro and conventional energy productions. The UK has the expertise to help develop those opportunities, and I welcome the commitment of the Government of Pakistan, and of the Chief Minister, to making this a reality."
Following the meeting, Chief Minister of the Punjab Mian Muhammad Shahbaz Sharif said:
"I am grateful for the support of the Foreign and Commonwealth Office and UK Trade and Investment in understanding that the energy sector is key to my government's plans, as set out by our federal Government in its National Power policy for 2013-18.  For the economy to grow, energy capacity will have to increase. The prevailing energy crisis in Pakistan would be overcome with the help of friendly countries."
There are over 100 British companies operating in Pakistan. Bilateral trade between the two countries is over £2billion per annum and the Prime Minister has set a target to increase this trade to £3billion by 2015, which this event supports. UK Trade & Investment and the Foreign and Commonwealth Office actively support businesses doing or seeking to do business in Pakistan and will hold the second flagship UK-Pakistan Trade and Investment Conference at Lancaster House on 17 December.
The event follows Baroness Warsi's recent visit to Pakistan, where she reiterated UK support for economic reforms and promoted UK investment into Pakistan in the financial services and energy sectors.