 We were named Best Local Newspaper/Magazine at the first ever Asian Media Awards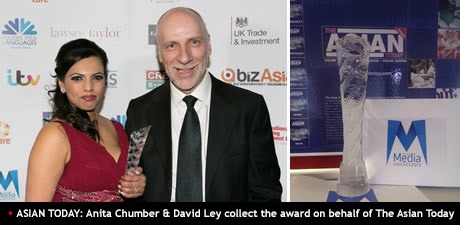 The landmark awards, held at the Hilton Deansgate, Manchester, recognised both the current and future stars of the UK Asian media industry.
Zakia Yousaf, Editor of The Asian Today said: "It is a great honour to have been given this recognition by some of the leading figures within British Media. In 2012 we celebrated our 10th anniversary which was a massive achievement and a very proud moment for the team here.
We have worked extremely hard to make sure The Asian Today is recognised as the leading news portal for the Asian community across the Midlands.
The award is dedicated to our loyal readers and advertisers whose support has been immense. The Award has only strengthened our commitment and desire to become even bigger and better and with a multitude of new and exciting projects lined up over the coming months we are confident this can be achieved. "
Other award winners on the night included Jimmi Harkishin, who has played the part of Dev Alahan in Coronation Street since 1999, making him the longest-running actor in an Asian role on British television.
Jimmi was handed the Sophiya Haque Award for Services to British Television, a category named in tribute to the late Coronation Street actress, who died of cancer earlier this year, aged 41.
Jimmi says: "These awards are a fantastic celebration of being Asian and long may this continue. It's a great honour to receive this award and I feel very privileged to be able to act and do what I love on a day-to-day basis."
Jamila Massey, one of the first Asian actresses to ever appear on British TV in 1960, received the Outstanding Contribution Award. She has appeared in Eastenders, The Bill and Minder and has also featured on well-loved radio programme The Archers.
She says: "This is my first acting award and I'm thrilled, it's just beyond belief. Times have changed so much compared to when I started out. Parts for ethnic minorities were usually that of servants and contained only a couple of lines. I was persistent and gradually times changed and I'm pleased to say it paid off.
"These awards are a wonderful idea and will allow so many talented Asian people to get the recognition they deserve."
Mehdi Hasan, political journalist, broadcaster and author, won the accolade for Media Personality of the Year.
He worked on LWT's Jonathan Dimbleby programme, BBC1's The Politics Show and on Sky's breakfast show Sunrise, before being appointed political director of The Huffington Post UK in 2012. 
Mehdi says: "I'm thrilled to have won this award. It's great to receive recognition from both my peers and the community so this is like a double win.
"My view is that the British media has a long way to go before it can truly say it's done enough to create a diverse workforce, but these awards are giving us the chance to shout about what we do and be counted."
Other categories encompassed the world of TV, radio and print journalism and those who won represented a wide range of individuals and organisations from the across the country, including the BBC, ITV and Channel 4.
Adil Ray, who plays Mr Khan in BBC sitcom Citizen Khan, won the award for Best TV Character. He says: "To get this recognition from fellow professionals is great. To make a successful show like Citizen Khan takes a lot of work so this award is for the entire cast and crew."
Umbreen Ali, media manager at the Asian Media Awards, adds: "It has been a wonderful night and I am delighted with the response.
"The Awards were never really about who won but it was more to celebrate how the media industry continues to thrive in all its forms.
"We were overwhelmed with the entries and in particular with how small organisations have such a significant impact on the communities they serve.
"It was wonderful to honour some of those who have made valued contributions in the past but also to recognise that there is still a lack of diversity in some newsrooms.
"It is only through events like this we realise the scope of talent that is out there."
The awards were sponsored by Asons Solicitors, UK Trade and Investment, International Learning Movement, MediaCity UK, Hilton, Karma Foods, Lawson Taylor Solicitors, AMT Lawyers, Manchester Metropolitan University (MMU) and Routes into Languages.
Partners for the event included charities
Lendwithcare.org
and CARE International, ITV and
BizAsiaLive.com
, with judging panel representatives from Al Jazeera, the Press Association Training and MediaCom.
The winners of the night were:
Journalist of The Year – Divya Talwar [Reporter, BBC]

Best Investigations – 'The Hunt for Britain's Sex Gangs' Presented & Reported by Tazeen Ahmad: Produced by True Vision for Channel 4.

Online Best Website – Desiblitz.com

Best Blog – Salma Haidrani [various].

Print – Magazine of the Year – AGI Magazine

Newspaper of The Year – Eastern Eye

Best Local Newspaper or Magazine – The Asian Today

TV Local Report of The Year – 'Returning to Tonfanau' ITV Wales This Week

TV Channel of The Year [Digital] – Star Plus

Best TV Show [Digital] – Real Talk [Brit Asia].

Best TV Charachter – Citizen Khan

Best TV Drama [Digital] – Saraswati Chandra [Star Plus]

PR & Marketing Media Agency of The Year – Media Moguls

Media Professional of The Year – Reena Combo [Ikonz]

Best Live Event – 'Break the Floorboards' (Rifco and Watford Palace Theatre Production) May 03 2013 – June 22 2013

Radio Station of The Year – BBC Asian Network

Radio Station of The Year [local] – Asian Star Network [Manchester]

Radio Presenter of The Year – Nihal [BBC Asian Network]