 Fans rush to see Akshay Kumar in Housefull 2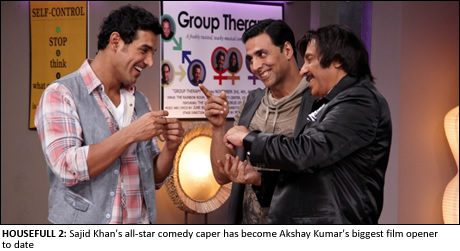 HOUSEFULL 2: The Dirty Dozen has become Bollywood superstar Akshay Kumar's biggest film opener to date globally generating just under a staggering £500,000 at the UK box office.
The film, which opened across the UK on April 5, is already the second highest opener in India this year.
And while Bollywood fans are packing cinemas up and down the country, critics are equally in awe of the Sajid Khan comedy caper.
Bollywood critic Taran Adarsh said: "Sajid Khan comes up with a film full of joviality, frolic and merriment. There's no denying that the motive is to make you laugh and this movie makes you break into guffaws on several occasions."
Adarsh adds: "I have often said that you can put in writing the most hilarious dialogue in the world, but at the end of the day, humor is all about delivery on screen and Akshay delivers and how! He fits the character like a glove and delivers a scintillating act, illuminating every scene that he appears in."
NDTV said of the film: "The plot, characters and situations keep the chuckle fest vibrant and alive and the audience can't help getting infected by the non-stop party mood."
An excited Sajid Khan who directed the film tweeted to his fans: "All screens are going Housefull. I attribute a major part of its success to Akshay. He has been a superstar for the last eight years or so and will be one for many more years to go. The best thing about the film is that Akshay's work has been appreciated and this film is Akshay's biggest hit overseas."