 Popular Radio Presenter to quit Asian Network for new life in Canada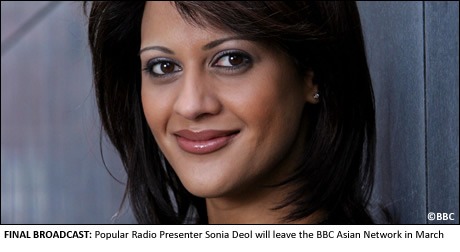 BBC Asian Network radio DJ Sonia Deol is leaving the station to start a new life in Canada.
The min-morning presenter has been a regular on the airwaves for over 15 years. But she'll say her final words next month after announcing she's packing her bags and moving to Vancouver to start a new life of wedded bliss.
"Although it's a very happy time for me and I'm looking forward to the next chapter of my life, I am going to dearly miss my fantastic radio family, both on and off-air," she said. "We've been through so much together over the years and shared some fantastic achievements. I'm proud of the fact that we've made the station the most listened to Asian service in the country."
"I'm honoured to have worked with a brilliant team where we more than doubled the audience on the mid-morning show in the last two years and I've also had so much fun working with our Events team, hosting successful music tours and Melas. I'd like to take this opportunity to thank my friends and colleagues for their guidance and encouragement during my career.
"The next few weeks will no doubt be emotional as I start to say goodbye to the audience I love with all my heart, and get ready to make a new start in a new country. I wish the BBC Asian Network the very best for the future."
Sonia started her career with the Asian Network in 1996 becoming one of the stations most recognised voices.
And the station paid tribute to her "wonderful contribution".
Vijay Sharma, Head of the BBC Asian Network, said: "I would like to offer a heartfelt thanks to Sonia from all of us, for her wonderful contribution to the Asian Network. Her understanding of our Asian audience has been a real asset to the station over the years and she has always connected with them in an authentic and sensitive way. I am sure that there are projects in the future where we would love to see her on stage or behind the microphone for the Asian Network, keeping that link with our audience who are certainly going to miss her."
Sonia's final broadcast will be on Friday 2 March.