 Husband and wife take business from a dead end storage unit to busy high street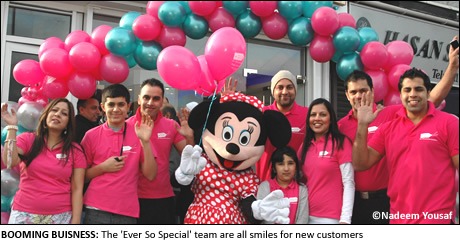 A BIRMINGHAM husband and wife duo are proving their business is 'ever so special' after expanding from a dead end storage unit to a fully-fledged shop.
Proving local business can survive in tough economic times, Seama Yousaf and husband Jamil opened their 'Ever So Special' shop on the busy Stratford Road in Sparkbrook last month.
The shop specializes in all types of events from creating stunning wedding decor, stages and customising centrepieces to managing corporate events across the UK. The business also provides unique fresh floral arrangements, balloon and fruit arrangements.  
With two full time staff and over 30 part time contract staff, it's a far cry from the back end storage unit they owned near the couples house in Moseley.
"This originated from creating centrepieces for weddings and birthdays as I've always had a passion in creating and managing such exciting occasions and originally it was just for family and friends," Seama told The Asian Today.
"But as things started to grow and the orders increased our storage unit was just too small. We had storage for some of our bigger pieces but there was no room to display our creations and present to customers."
Shortly after the birth of the couple's third child Seama and Jamil set the wheels in motion to take 'Ever So Special' to the busy high street.
The location was sourced and after a host of late nights, the shop opened last month with a ribbon-cutting ceremony and even a special appearance from a Disney favourite!
"The launch was absolutely fantastic," says Seama.
"We had a ribbon cutting ceremony, a balloon release and even had Minnie Mouse pay us a special visit! People were just coming in off the street which was brilliant."
The shop secured five orders in the first hour of opening and things are definitely looking up.
And with a family to look after while running a busy business, Seama knows it will be tough but worthwhile.
"If you are accustomed to motherhood you can do anything," Seama says.
"Jamil is such a supportive husband and we know together with the continual support of such great family, friends and staff we can make 'Ever So Special' a success.
 "I want to sincerely thank my lovely sister in law, Sofina who put her own life on hold to make this happen and my fantastic inspiring friend Nujma; without their support this may not have ever been possible. Not to forget my darling daughter Hikma who is only 8 but supported her mother through it all
 "I want everyone to come and take a look and give me their views and feedback. Everyone is welcome.