 National charity support youngster's bid for life-changing treatment in America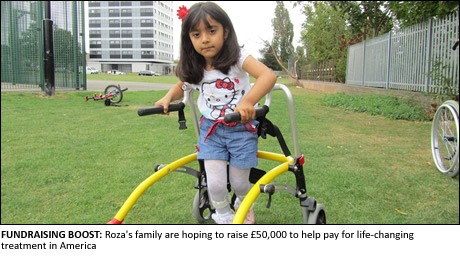 A FUNDRAISING appeal to get a 5-year-old from Coventry life-changing Cerebral Palsy treatment in America received a boost when it was announced that national charity, Caudwell Children, had come on board to support their fundraising.
So far, Roza Abdullah's young life has been blighted by the painful effects of Spastic Dipelgia Cerebral Palsy, which gives her aches and pains in her legs and makes it impossible to walk and run like her friends.
The treatment Roza needs is called Selective Dorsal Rhizotomy (SDR) and involves cutting some of the sensory nerve fibres that come from the muscles and enter the spinal cord. The complicated procedure reduces spasticity and it becomes easier for patients to increase strength with therapy and exercise. Children who have received the treatment can often start types of exercise that were impossible before.
The operation is not widely available on the NHS and the Centre for Cerebral Palsy Spasticity in St Louis, Missouri are the World's leading specialists.
Now, the family from Stoke are doing everything they can think of to raise funds for the treatment at the St Louis Children's Hospital, but time is running out as they need to raise £50,000 in just three months.
Ben Sutcliffe, Head of PR at Caudwell Children, said: "Over the last 18 months we have helped over 20 families fundraising to get this truly life-changing treatment for their children. We really believe in the difference the SDR treatment can make to a child's life and want to help in any way we can to get Roza over to St Louis." 
With over 12 years experience in fundraising, the Charity hope to support Roza's family by helping with marketing events and using their contacts to approach local Foundations.
"As well as our fundraising support, we also give donors the peace of mind that a fully audited, registered charity is managing all of the money. This itself can be a huge weight off the family's mind at an already stressful time." added Ben.
Nazaneen Abdulla, Roza's Mum, said: "I heard about Caudwell Children through other families they had helped and it feels like a huge relief to have the support of such an experienced team."
Anyone interested in helping the Help Roza Walk Appeal is asked to contact Caudwell Children on 01782 600114 or to donate online visit
www.justgiving.com/helprozawalk