 Naachle London brings Bollywood to Britain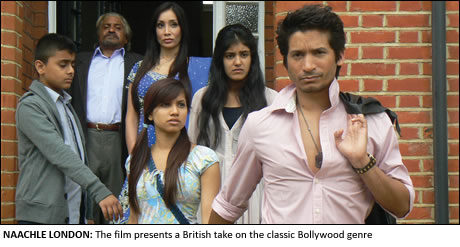 THE first ever BollyBrit film is set to hit the big screen later this month!
Naachle London – a unique cinematic offering that presents a British take on the classic Bollywood genre, releases across the UK on 24th February.
Adopting the classic, Bollywood narrative structure and influence, Naachle London retells the rich girl-poor boy love story in a contemporary British setting, while dealing with issues that face British society today such as the recession, interracial relationships, the stigma attached to divorcees among Asian communities and self-esteem and acceptance issues facing teenagers in modern Britain. 
The film is produced and directed by maverick filmmaker, Neville Raschid,  whose earlier credits are indie Brit flicks, Ealing Comedy, which was hailed "the best movie I've seen since Juno" by BBC's Nikki Bedi and Lost Dogs, which Lisa Snowdon described as her "favourite Brit pic" on ITV1's This Morning.
Taking the lead roles in the film are Raj Ghatak who was nominated for a BAFTA for Andrew Lloyd Webber's stage musical, Bombay Dreams, and actress Sofia Hayat.
Producer/ Director Neville Raschid said: "Making a film is the closest thing a male filmmaker can come to creating a child. You 'carry' the film for many months; then comes the 'labour' period when you shoot and edit the film; and finally it is ready to leave home on the film's release and you can't do anything more about it anymore. 'Naachle London' has been a marathon over an obstacle course with the finish line over a bed of hot coals. But it's a film I am immensely proud of. During the shoot we had the August riots and the rain to contend with but all that slog will be worth it if the film is warmly received and does solid business at the box office. Aviary is set to shoot its second BollyBrit film in May 2012."
Make sure you catch the film at a cinema near you from 24 February!