 Imran and Kareena find love in Ek Main Aur Ekk Tu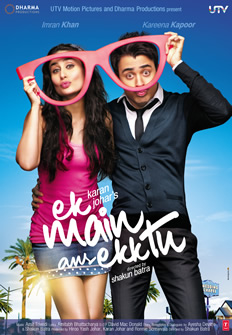 Director: Shakun Batra
Cast: Imran Khan, Kareena Kapoor
Las Vegas- based Rahul Kapoor is a sad, tragically lonely guy with a very restricted life. His every move has been planned by his parents. He has never done anything spontaneous by himself. But one fine day he suddenly loses his job as an architect.
Afraid that he has let his parents down, Rahul starts looking for another job to hide the truth.
When by a twist of fate, he meets Riana Braganza, a quick-witted, bubbly and vibrant hairstylist who is everything he isn't. 
She opens his eyes to a whole new world making him realise what he has missed all these years. A series of events lead them to meet on Christmas Eve over a few drinks… but like always, it's never a 'few'. 
Following a night of immorality, they wake up to discover that they've gotten married. 
Now Rahul has more than just his job-loss to hide from his parents! They both decide to get it annulled as soon as possible. So they make an appointment from the court which they get in ten days time. 
Over the next ten days they have their share of arguments, moments and laughs resulting in an unlikely friendship in this rom-com from Dharma productions.
Ek Main Aur Ekk Tu shares similarities with Hollywood films like What Happens In Vegas, Two To Tango and The Hangover but has been given the Bollywood treatment adapting to Indian sensibilities.
Imran Khan has had two hits in 2011 in the form of Delhi Belly and Mere Brother Ki Dulhan.
He is now back with a bang with his first release of 2012 sharing excellent chemistry opposite Kareena Kapoor.
The supporting cast Boman Irani and Ratna Pathak Shah play Imran's authoritative parents in the film. However Ratna has already played the role of a loving mum to Imran in Jaane Tu Ya Jaane Na.
The film has been an expensive project for producer Karan Johar as real locations have been used at the Casino city, Las Vegas during the Christmas festive season.
The film has a colourful and youthful look making it a perfect Valentine's release this February!