 Supriya Davda speaks to the British model turned Bollywood actress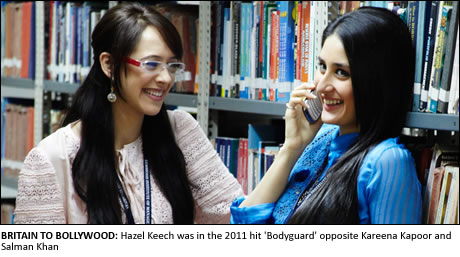 AFTER making her debut opposite Salman Khan and Kareena Kapoor in 'Bodyguard', life is definitely looking up for Brit-born Hazel Keech.
The model-turned actress is looking ahead to a bumper 2012 where we'll see her back on the big screen.
Bollywood Correspondent Supriya Davda spoke to Hazel about her passion for acting, Mumbai life and future plans in the Hindi Film Industry.
How difficult was it to enter the Hindi film industry being from abroad?
To enter any film industry whether you're from the native country or abroad is difficult. There are so many people who think its all glitz and glam without realising how much hard work and patience it requires, and how testing it can be morally and spiritually. I knew I wanted to entertain since I was little, I used to sing and dance and act and impersonate when I was kid so this is what I always wanted to do!
Whom would you give credit to for who are you are today?
All the progress I've made in India has been down to my own hard work. I never had anyone hold my hand and show me the way; I've learnt through trial and error with the support of my family and a few people I've met on my journey. I don't have the luxury of a filmy family or lots of money to pay my way so I've had to earn my credit the hard way.
Could you tell us about your journey in Mumbai, from your first audition, to your signing various endorsements and to signing Bodyguard?
Well I went to Mumbai on holiday in 2005 and happened to meet a music video director who signed me to model and do an item song for an album. I did advert and theatre and a Tamil film during 2006-2010. I was modelling mostly during that time, which only really happened by chance again. My first shoot was a portfolio shoot and I learnt everything I needed to know about modelling during that shoot. The camera assistants would flick through magazine and hold up pictures of others models for me to copy. I took modelling as an acting exercise-playing the role of a model and letting the camera capture moments.
The most pivotal question, how were you approached for Bodyguard?
In 2008 I happened to meet Salman Khan by chance who said he would help me get a film and keep me in mind if anything came up. Two years later I got a message from Atul Agnihotri saying that he and the director Siddique wanted to meet me regarding a role. Siddique had seen my Tamil film 'Billa' which was a remake of Don.
 I have often spoken to various newcomers who have always said what a struggle it is to get work in the film world and how closed it is, did you find this?
It's hard to get work when you don't come from a filmy background and don't know anyone in the industry. So yes getting work is hard, and even if you know people getting work is still hard. Ten years ago if you were in the biggest hit with broken records people would be signing you left right and centre, these days you need a pr, manager, agent, personal assistant etc. I wouldn't know if the industry is closed because no one has rolled out the welcome carpet yet! (Laughs)
 Having spoken to both Salman [Khan] and Kareena [Kapoor], they both said you did a fantastic job in the film, what was it like working with them?
Ah that's so nice of them to say, and such an honour that two massive stars are speaking highly of me. How surreal! Someone pinch me! Firstly I'm so grateful I got to act opposite both Salman and Kareena, I learnt so much from both of them watching them work. Watching Kareena do a crying scene was moving so convincingly I was moved, then as soon as the director said cut in a second she was out of the moment and laughing. Salman is a total dude, he doesn't get stressed or take anything too serious, he just enjoys what he does and you can tell that when you see him at work and on screen. He's found his comfort zone and his masti is so much fun to watch
How different is life in Mumbai from London where you were born and raised?
Mumbai is another world compared to London! In fact it's so different you can't compare the two. London is my home where I was born and brought up and Mumbai is my home now where I've learnt my biggest lessons in life and become an adult.
What have your family said about your performance?
My family were very impressed by my performance, they've seen me prancing and dancing around all my life but when they saw the twist in the film, they said, it was very well done and well acted. They're really proud and pleased all my efforts have amounted to lead in such a big film and are very pleased about all the positive reviews and feedback about my performance. However like any English family they're keeping me very grounded and are sometimes nonchalant but secretly proud!
What's next for you now? Have you signed anything yet? What kind of work is coming your way?
I've got lots of meetings and offers right now, a couple for lead roles for films to start this year. I'm just decided right now which films to sign. I'm here to stick around though and some interesting character roles are coming up too.
Do you have long-term goals to remain the in the industry? Where would you like to see yourself in the next five years?
Wow in 5 years. I'm not sure, I've never really made any plans; I've just gone along with the flow of life, in this industry of course, and it's led me to this point. In 5 years time I imagine I'll be a well known actress and hopefully would have some great films and performances under my belt
Whom do you most desire to work with [actor, director]?
I'd like to work with everyone, every actor has a different work ethic and I'm excited to work with them and see what we can create on screen. The same goes to directors, some are very specific about what they want you to do and some give u the space to create characters. So I'd like to work with everyone at least once.