 Preeya Kalidas confirms news on Twitter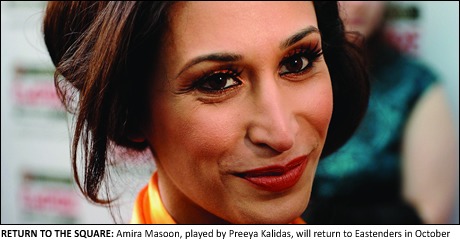 JILTED Eastenders wife Amira Masood is set for a shock return to Albert Square, the actress who plays her has confirmed.
Actress-turned-singer Preeya Kalidas, who initially left the show to pursue a music career, confirmed the news on Twitter saying: "To all the fans that ask me everyday.. This is for you…. She's coming back! AMIRA RETURNS!! (sic)"
Her character, Amira, fled the Square in April after finding out partner Syed had fallen in love with neighbour Christian Clarke.
But she departed with her own secret – she was pregnant with Syed's baby.
With the newly-engaged gay couple currently planning to adopt a child, Amira's return will rock the Square.

A source told The Mirror: "Amira left Walford a heartbroken woman. When she finds out Syed is planning to marry Christian she is furious. Amira is manipulative and her presence looks set to turn the lives of the Masoods upside down.

"The question is, has she moved on from her husband or will she do whatever she can to get him back? Only time will tell."

Expectant fans will have to wait until October to see Amira's return to the Square!