 Coventry Fundraiser urges Asian Today readers to dig deep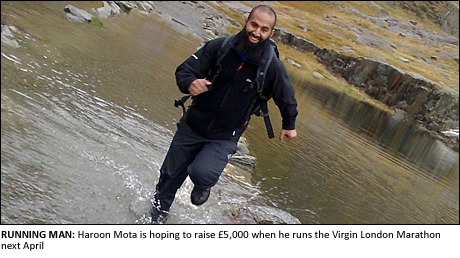 SEASONED fundraiser Haroon Mota is at it again – and this time he's swapping mountains for a marathon!
Haroon has been a regular in the pages of The Asian Today raising money for charities galore. He's trekked up Mount Everest and even scaled three of the UK's highest mountains in just 24 hours. But now Haroon's challenge is all together different – he's going to run his first Marathon!
Haroon will don his running shoes for the Virgin London Marathon in April next year and is hoping to raise £5000 for the Teenage Cancer Trust.
The former Coventry City Council worker has spent the past three months surrounded by young cancer sufferers as part of his job as a Senior Activity Coordinator at University College London Hospital where he provides recreational and therapeutic activities to help youngsters normalise their daily lives.
Haroon, who commutes from his hometown of Coventry to London every day, says watching youngsters suffer is "heartbreaking" – and he's determined to do his bit to help the Teenage Cancer Trust which offers vital support to cancer sufferers.
"Since working on the Teenage Cancer Unit at University College London Hospital I have witnessed first hand, the fight teenagers face when diagnosed with cancer," Haroon tells The Asian Today.
"I have never run a marathon before, so it is going to be a very long and challenging 26 miles for me. However, this challenge is nothing in comparison to the challenges that teenage cancer patients face on a daily basis.
"Trust me, it's horrible what they have to go through and words can not describe the suffering I see on the ward on a daily basis. I have only been working here for three months, yet I have witnessed several deaths from my ward alone."
Haroon is determined to raise £5,000 for the Teenage Cancer Trust – and his goal has been boosted by the generosity of a Coventry-based business.
Cosmetic coloured contact lens company MesmerEyez.com are official sponsors of Haroon's marathon run and as well as donating an initial £250 they are offering to match all donations made to Haroon's fundraiser before Saturday 16th July.
"MesmerEyez.com have been very charitable," Haroon says. "They helped me raise £20,000 a few years ago and again they are my leading and official sponsors.
"They have made it their mission to help me achieve my fundraising target to improve the quality of life of patients being treated on Teenage Cancer Unit wards.
"All the money raised will make a massive difference, so I'm calling out to everyone to donate as little or as much as they can. A little help will go a long way."
If you would like to donate
CLICK HERE
to log onto Haroon's fundraising page