 Jaz Dhami supporting Chelsea FC initiative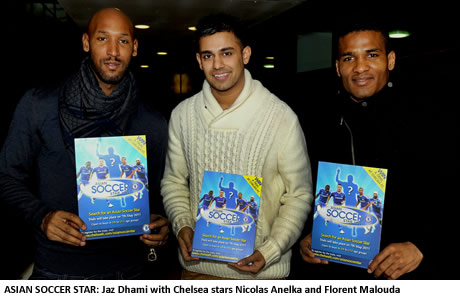 International Asian music star Jaz Dhami is once again supporting Chelsea's Asian Soccer Star this year, a project that provides groundbreaking opportunities for budding young players from Asian communities.
The programme offers the chance for players to win a place at the Chelsea Academy trials this summer and has already seen four winners go on to sign for professional clubs
This year's event will take place on 7th May at Chelsea 's world famous training ground in Cobham for players in the Under 9 to Under 12 age groups. 
Nicolas Anelka is an Ambassador for the Asian Soccer Star programme and the striker welcomed the return of the scheme: "Asian Star is making a real difference. Everyone should have the same chances to play no matter what backgrounds they come from and this programme is offering young Asian players the opportunities they deserve."
Singer Jaz Dhami added: "I'm extremely delighted to be supporting the Search for an Asian Star campaign again, as it's a project which proactively makes a difference.  This campaign gives the opportunity for youngsters from the Asian community to showcase their talents and opens doors for them to hopefully get into the professional game, via one of the world largest clubs, Chelsea FC. "
Participants will be judged on a series of matches and tests specifically designed and used by the Chelsea Academy to examine speed, skill and ability.
One player from each of the four age groups will be selected for the Chelsea Academy summer trials where they will train and play alongside some of the country's best young talent. Any player meeting the required standard will be offered the chance to be signed by the Blues.
The initiative supported by the Asian Media & Marketing Group and Kick It Out is the first of its kind ever undertaken by a professional football club and is designed to give a much-needed boost to Asian participation at all levels of the game. Chelsea will also be inviting managers, coaches and scouts from clubs at all levels of the game to identify talented youngsters and information will also be on hand for Asian players to find clubs in their area.
Kalpesh R Solanki, managing editor of Asian and Media Marketing Group said: "This is a fantastic initiative and still the only one of its type among the top four clubs in our country. Chelsea are to be commended for their efforts to make the game truly diverse and the reaction from the community has been brilliant too. 
"It has given young aspiring players a huge boost to know that a club such as Chelsea are aware of the issues and are doing something to address the lack of Asian talent in our national sport. I would urge anyone who hasn't participated before to get involved in Asian Star and those that have done, this is yet again another opportunity to show you have what it takes. Having Nicolas Anelka, one of the Premier League's most durable talents, as the initiative ambassador's is inspiring and we wish everyone the best of luck."
Applications are now open but places are limited for each day. To register for the trials please visit the Chelsea website