 His father is Bhangra icon Amarjit Sidhu so can Samar Sidhu make it on his own?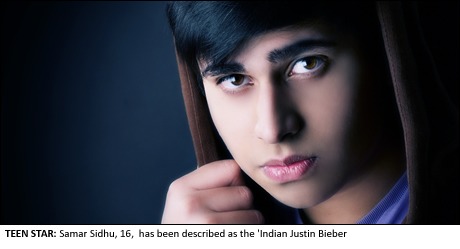 THEY say that music is in your genes, and for one teenager that's certainly true! 
Already billed as the 'Indian Justin Bieber', 16-year-old Samar Sidhu is about to fulfil his musical legacy as he prepares to take centre stage this summer with the release of his first single 'Mukhara'.
The son of Bhangra icon Amarjit Sidhu, Samar, started to learn tabla at the tender age of 12. He discovered a passion for singing a couple of years later, after meeting the then newcomer Jaz Dhami, as the budding star approached Samar's father for advice and direction. 
Last July, he undertook vocal training from the internationally renowned playback singer Jayshree Shivram Ji from Mumbai.
It was inevitable that a young man like Jaz was going to be a huge impact on the eager teenager and as a result, Samar started developing his own unique sound. Samar has spent the past two years creating music that combines his love of Bollywood, Bhangra and Hindi.
Samar, like most young lads, is a keen footballer and a huge Manchester United fan. But his singing is now top of his agenda.
The teenager says of his music: "I am really determined for my music to be my own, it's influenced and inspired by the music and artists that I love and I hope that audiences across the world will like what I have created. It's a reflection of my life and my personality."
'Mukhara' is the first single to be released from the Sidhu camp, featuring three separate mixes, including a Bhangra mix by the chart topping Dark MC, a Bollywood mix and a Club Dance mix.
Samar continues: "We had great fun with Mukhara and we've created three mixes for different moods and tastes – so no excuse for anyone not to listen – wherever they are and whatever mood they're in!"
The young Sidhu is also setting a new precedent with his first single; as well as the three mixes, he has created two separate videos for the tracks!
The first video for the Bollywood mix is set in Monaco amidst the glamorous life of the rich and famous, whereas the club mix takes on a completely different vibe, seeing Samar being put through his paces with some serious dance moves! The choreography comes courtesy of Artur Gourounlian, the man responsible for choreographing Take That, X-Factor and a host of other major artists.
Samar is a keen live performer and is looking forward to a summer filled with gigs and mela's where he can take his music to the masses.
He adds: "I love live performances. There is nothing as thrilling as going out on stage. The buzz that you get from seeing people enjoy my music is unbelievable and inspires me to do well.
It's going to be a real privilege to be able to perform on the same stage as some of my icons such as Mangal Singh, Shin DCS, Jaz Dhami, H Dhami and Garry Sandhu. Roll on July!"
And what comes next? Well, the new kid on the block already has a few tracks for a debut album under his belt:
"I've been really lucky to have had support from the very best of the UK Asian music industry. Two of my heroes, Mangal Singh and Shin of DCS, have already composed some of the tracks for the album, plus of course I have guidance from the best in the business – my dad!"
Embarking on his musical journey, Samar follows closely in his illustrious father's footsteps. Amarjit Sidhu has been a pioneer of the British Bhangra industry for over 20 years, as a solo artist, producer and as a member of legendary Bhangra group Chirag Pehchan.
Sidhu also organised the first Asian Pop Awards at the Dome in Birmingham in 1986. A year earlier Amarjit put the Asian music scene on the map by creating the Asian equivalent of Live Aid featuring 15 bands, including Alaap, Heera, and Apna Sangeet, and raising funds for Ethiopia. After leaving the music and media industry in 2000, Sidhu now returns to produce and launch his heir to the throne, Samar Sidhu.
'Mukhara' will be out on the 14th July on iTunes