 Bollywood star flies into London for sculpting session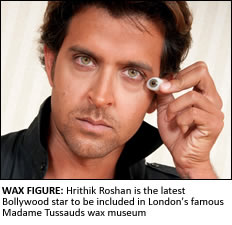 BOLLYWOOD star Hrithik Roshan jetted into London to be measured up for his new wax figure at Madame Tussauds.
The award-winning actor met up with the museums sculpting team during two sittings in Mumbai and London.  They captured a catalogue of reference photographs and hundreds of precise measurements for the figure, which will be unveiled in London in January 2011.
To ensure total authenticity, Hrithik will be closely involved in the creation process,
collaborating with the team to agree the pose and even donating items of clothing for his figure to wear.
Commenting on the creation of his figure, the star of hit films including Kaho Naa… Pyaar Hai, Dhoom, Krrish and Jodha Akbar… said: "I don't really have the words to articulate what it feels like.  Being bestowed this honour is overwhelming."  
Hrithik, who remembers visiting Madame Tussauds as a child but never imagined he would stand alongside his heroes there, added that his inclusion "re-affirms my belief that nothing is impossible."
Hrithik will follow in the footsteps of other Bollywood giants Amitabh Bachchan, Aishwarya Rai, Shah Rukh Khan and Salman Khan, all of whom feature in the attraction.
He is the youngest male actor from India to get this honour. 
Liz Edwards, PR Manager at Madame Tussauds London said: "Our Bollywood area is one of the most colourful and popular in the entire attraction – particularly with our Asian visitors.  We want to ensure we continue reflecting the very best of Bollywood so we're delighted Hrithik will be joining the line up in 2011.  His string of awards, box office hits and huge fan base make him a modern day icon and he truly deserves his place in the attraction."
The figure will be created at Madame Tussauds studios in London over the next four months at a cost of £150,000.  The first step is to craft a perfect clay sculpture from which the moulds are made to make an amazingly life like wax figure. Then it is over to a team of skilled hair and colour artists to insert the hair by hand and build up life like skin tones using layer upon layer of oil paint; every freckle, mole, dimple and wrinkle are accurately reproduced.
A spokesman for the International Indian Film Academy added: "We began our association with the world-famous Madame Tussauds museum in 2000 when at the inaugural IIFAs in 2000 at the Millennium Dome, Amitabh Bachchan was announced as the first ever Indian film star to be honored in wax. Then followed a string of select Indian stars including Sachin Tendulkar. We are very pleased that Hrithik Roshan now joins this esteemed waxed league, within a decade of entering the film industry."