 Student Halima Begum reveals devastation inside Pakistan Flood Zone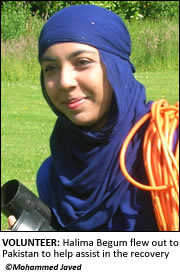 LIKE thousands others, Halima Begum felt a sense of despair after watching news reports showing scenes of suffering and anguish as floods ravaged parts of Pakistan.
The 20-year-old medical student was desperate to help the people whose suffering she had witnessed on the TV screen in her east London home.
Yet while most of us picked up the phone and donated what little we could, Halima did something else – she got on a plane and went into the disaster zone to assist in the recovery effort.
When she was contacted by MADE in Europe, a UK-based organisation working to tackle global poverty, about the opportunity to go directly into the disaster zone and assist Islamic Help, Halima said she "did everything" in her "power" to make sure she could go. For Halima's parents the thought of their daughter so far from home and working amongst the dangers of a disaster zone naturally made them reluctant to give their blessing.
"I spoke to my mum, and the setbacks of going started rolling in," Halima explains. "'Its Ramadan, its going to be hard to fast, they're going to make you work hard, you've got university to prepare for, you need to be home for Eid, your brother's getting married, you need to rest before you start studying too…' In my eyes these 'setbacks' made me more and more hungry to go, so I think my enthusiasm made my mum realise how much this meant to me."
On the plane journey to Pakistan Halima continued to read reports describing the huge scale of the disaster that awaited her. But she admits she was unprepared for what she saw once in Pakistan.  TV news reports had left Halima preparing her for scenes of "green water and people dispersed on rooftops." But what she saw shocked her beyond belief.
Having landed in Pakistan Halima and the Islamic Help team set off on a drive to the city of Sukkur, dubbed the 'refugee city', where they would help the swelling numbers of displaced families. But during that drive the young medical student was left shaken.
"I witnessed miles of whole families sleeping on the muddy ground," Halima said. "The overwhelming humidity of the atmosphere I felt probably isn't even considered a problem for these displaced families, the ground was dirty, full of bacteria, there was no overhead shelter, and who knows what creatures were lurking in the dark. There were babies lying on the ground in the dark, and thousands of things were running around in my head like 'I can't see any water source! "What is the baby drinking? Why is that baby so close to the road! What if there are snakes around?' "I think that's when reality hit me; it was heartbreaking to witness these things from the comfort of the car with the broken air conditioning system."
When Halima reached the village of Sikarpor, a village an hour from Sukkur, the situation was dire.
"Sikarpor was shocking beyond explanation," Halima explains.
"I saw masses of people coming in boats to the nearest ground. If you look at a map, there is no river or sea nearby since Sikarpor is well embedded in the district of Sindh. "However, the devastation of the flood has completely rearranged whole cities so that no existent map can physically define towns anymore. One defining moment for me was seeing a whole railway track destroyed, with water surrounding it. This made me realise the heavy impact of the water. It was seriously devastating."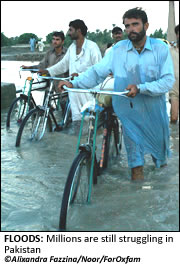 Coming face to face with men, women and children in desperate need, the team started work.
They set up a diarrhoea treatment centre to treat the flood victims suffering from acute watery diarrhoea caused by drinking dirty water, as well as setting up water purification units around the area which convert muddy water into safe drinking water. "I focused more on the diarrhoea treatment centre; it was really like setting up a mini hospital from scratch," Halima explains. "We put up an inflatable field hospital, a huge tent which required a lot of physical work. We then had to set up the interior, and rearrange a warehouse with all the donated medicines and equipment, which required a lot of organisational work. "Treating and monitoring the patients was a very clinical experience for me, and it was so rewarding to see patients come in dehydrated and physically strained, to walk out with their symptoms completely alleviated."
But for some the health dangers arising from the floods proved too much.
Halima explains: "On the third day the diarrhoea treatment centre was up and running and a seven-month-old-baby was brought in; he was so dehydrated and the visible malnourishment signified a very underdeveloped immune system. Doctors and paramedics set up an intravenous drip as quickly as they could and started the antibiotic treatment immediately.
"But it was too late for the treatment to have an impact. I heard from my fellow volunteers that it was heart wrenching to witness a baby pass away, knowing the treatment was so simple but too late. The family was drinking unclean water for the past few weeks, and had no access to medicine or healthcare explaining why the baby was brought in so late. It was all too emotional for all of us to talk about."
While treatment centres like the ones set up by Islamic Help aided with the medical needs of the victims, mentally the experiences of the past few months have left deeper scars.
Halima describes the look of "anguish, desperation and pain" in the eyes of those she came across.
"I met a mother of two children who were also patients, who was clearly mentally affected by the devastation," said Halima. "She had lost her husband in the floods, and while she was being treated for serious acute watery diarrhoea and dehydration, there was a resigned look in her eyes and mannerisms. This frailing mother who was so physically weak now had the new responsibility of providing for her young family on her own. The mother had seemed to have lost all physical and mental strength, by refusing to go to the bathroom for her diarrhoea and frequently soiling herself. She seemed immune to the words of reassurance from the nurses. There was a breaking point where she ran out of the clinic and wailed in the streets for help; the trained healthcare professionals and the treatment we provided aimed to alleviate her biological symptoms but nothing we offered could help her deal with the mental trauma she was dealing with."
But amongst the despair there was also hope, as Halima explained.
"The disembedded railtrack I saw on the way to Sikarpor, an actual wreckage, represented to me a physical detriment that only nature can cause. While I was pondering on how crazy the sight seemed, I thought to myself…'it will take years to fix this'. My eyes followed to the far end, which I walked up to, and what I saw was inspirational. About twenty or so men, many of them with white beards, throwing rocks into the water beneath the metallic remains of the railtrack. These men were rebuilding. They were working in the intense heat, day and night, with little resources, and without pay, to rebuild this railtrack. It was a sight of hope, and the optimism that glinted in their eyes was definitely a defining mood that I hoped to see in others."
Halima was initially only due to stay in Pakistan for one week, but an overwhelming sense of not wanting to walk away from those who needed her help made her stay an extra week.
"Witnessing people sick without homes, seeing children die with my own eyes, seeing masses of people sleeping on the streets, noticing so much malnourishment was a distressing reality that I didn't want to move on from. I think if others witnessed what I did too, they would be motivated as much as me to be as useful as possible to others," Halima said.
Now back in London Halima describes her experience as rewarding yet harrowing.
"The reality is the death toll will only rise, with people, particularly young children, losing their lives to simple treatable conditions like diarrhoea and dehydration. It's a heartbreaking reality, that the three children I witnessed pass away in the treatment centre were all children below the age of seven.
"I think it is very inspiring that people have been working hard in the UK to raise funds, and aid organisations like Islamic Help have used those funds in Pakistan to literally save lives. What people have raised in the UK, however little it seems, has helped to give hope to so many people who are suffering. There is so much that we can all give; money, time, energy, clothes. I was glad that I could give my time and energy. The long term solutions need continuous funding, and on our part we need to push the aid effort to a higher level and continue to fundraise for the flood victims for as long as we can.   I urge readers to continue to donate generously to organisations like Islamic Help and Oxfam."
People interested in overseas volunteering please visit
To donate and find out more about the Pakistan floods visit