 Music star to perform new single on National Lottery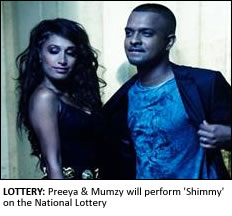 PREEYA Kalidas has hit the jackpot!
The ex-Eastender is all set to perform her debut single 'Shimmy' on the National Lottery!
Preeya will join Brit rapper Mumzy Stranger on the show next Saturday – just hours after she takes to the stage at the Manchester Mela.
The duo are set to make history as this is the first time the lottery has ever seen two British Asian acts perform on the show since it became televised in 1994.
And insiders are predicting their breakthrough performance is set to pave the way for future Asian stars to follow.
Commenting on the performance ahead Mumzy said:  "It's an honour to be on the National Lottery and I hope we are the first of many British Asian acts to perform on the show".
Not only will the duo be performing but Preeya will also be hitting the red button for the live draw.
"I am really looking forward to performing on the show and I can't wait to make one lucky viewer a millionaire," Preeya added.
The singer has been on a non-stop publicity tour ahead of the single's release on 24th July.
She spoke to The Asian Today just a few weeks ago (You can read the interview in our current issue) and she's already appeared on a number of radio stations, as well as primetime TV.
Preeya will follow up her National Lottery performance with an appearance on ITV's Loose Women on 26th July, as well as performances at East London Mela on Sunday 1st August and a week later at the London Mela on 8th August.
CLICK HERE
to read Preeya's interview with The Asian Today