 Detectives in fresh appeal one week after death of city student Jay Sudra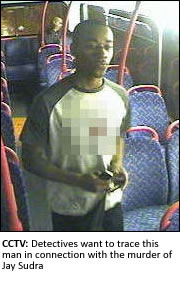 ONE week on from the murder of 21 year old Jay Sudra, detectives are releasing a detailed image of the man they urgently want to speak to.
Jay was walking home from work at around 11.20pm on Marsh Lane, Erdington on Friday evening when he was approached from behind in what police believe was an attempted robbery.
Jay was stabbed in the chest and died from a single stab wound to his heart.
He managed to stumble home where his horrified mum, neighbours and paramedics struggled to save him
Det Insp Paul Joyce is leading the murder investigation:
"This has been an incredibly fast moving investigation and we have great support from the community of Erdington.
"Earlier in the week we released CCTV footage of a man we are keen to speak to, we now have further images, of much better quality, and we ask for the public's help again.
"Do you know this man? Is it someone you know of? Did you see him last Friday or recognise his face?
"We need to hear from you. Your information, however small you may think it may be, could make a vital difference to our investigation."
Detectives from West Midlands Police will be carrying out anniversary appeals on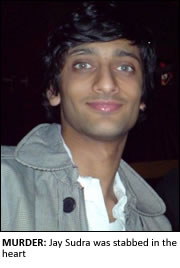 Friday evening, at Marsh Lane with uniform officers and local pcso's.
Jay lived in Erdington, was one of three children, had two sisters and a number of nephews and nieces.
Hi family described him as a "gentle person with positive energy" and who was "always smiling."
DI Joyce believes somebody local holds the key to unlocking who did this:

"Perhaps you have noticed someone's behaviour had changed since last Friday night. Perhaps as a parent, you've noticed changes in behaviour, perhaps someone has disappeared. Perhaps you're the person in our CCTV.

"We need you to come forward as soon as possible."

The investigation, codenamed Operation Prime, can be contacted either through West Midlands Police on 0345 113 5000 or Crimestoppers on 0800 555 111.
Related Articles