 Zesh Rehman behind ground-breaking initiative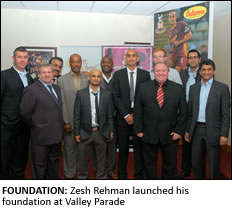 BRADFORD City defender Zesh Rehman has launched his own football foundation in an effort to get more British Asians into the game.
The Birmingham-born player, who announced details of the foundation last month, officially launched the initiative at Valley Parade, the home of Bradford City football club.
The foundation aims to support the growth of football within Asian communities the UK and overseas, as well as promote football as a pathway for community cohesion.
Rehman became the first British Asian player to play in the Premier League in 2004 when he was at Fulham FC.
Since then he has been active in encouraging British Asian participation in the game; most notably supporting Chelsea FC's Asian Soccer Star tournament for British Asians for the past two years.
"In my years as a professional footballer, at every level in the English game and as an international with Pakistan, I have seen first hand the force that football can be for community cohesion and social change," Rehman said at the launch of his foundation.
"Football has given me the opportunity to meet people from diverse backgrounds, ethnicities and cultures and equipped me with a range of tools to meet new challenges and opportunities. My career has also given me an insight and understanding of the role football has to play in inspiring young people, raising aspirations and achievements, and tackling a range of social issues."
Rehman added he was aware of the "challenges faced by young people from the Asian communities in this country" and that his responsibility as a role model for the Asian community motivated him to launch the foundation.
Representative from Bradford City FC, the FA and anti-racism charity Kick it Out were present at the launch of the foundation.