 Improve Muslim Community Relations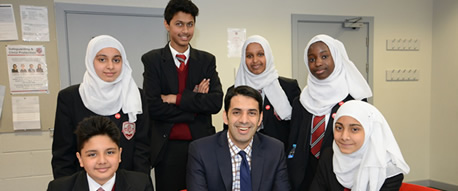 A senior aid to US Secretary of State, John Kerry, has visited a Birmingham school which had been at the centre of the Trojan Horse scandal.
Shaarik Zafar, John Kerry's special representative to Muslim communities was welcomed by staff and students at Park View. The school was put into special measures after being accused of having hardline Muslims taking over governing bodies. The school will be changing its name to Rockwood Academy in the new term.
After being treated to a performance of Snow Patrol's Chasing Cars and a school original called 'Together' and joining in a debate about the role of British Muslims in society, Mr Zafar said he was 'thrilled ' to be meeting students.
"Muslims are a part of Britain – this is a very British school and I'm honoured to be here," he added. "Dialogue between communities of all faith is essential – the more we break down barriers and stereotypes the better.
"The students here are clearly very proud Brits – that comes across very strongly.
"It's great to meet the future British leaders that will work with our American leaders.
"I wish that I had been as confident and well-spoken at their age.
"For all young people of any faith there are challenges and there are opportunities.
"Park View is a unique place and the children here have a terrific opportunity to get a first class education, and I look forward to hearing more about the work that this school is doing in the future".
One pupil, who did not wish to be named, said: "Some people judge us because of our headscarves but in our eyes we're British.
"The young children joining our school need to know that they have the same opportunities as everybody else and they shouldn't let anybody put them down."
Waheed Saleem, chairman of the board of irectors at CORE Education Trust, said the school was on the right path. "The turnaround isn't going to happen overnight," he said. "If you are changing the culture or significant issues of any organisation it isn't going to happen in six months. It's a journey we have to go through but we are on the right path."