 Leicester students scoops volunteering award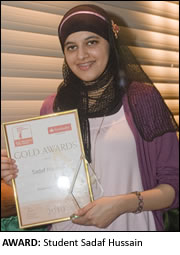 A LEICESTER student Leicester has received a national volunteering award for her dedication and passion to helping those affected by domestic violence.
Sadaf Hussain, 19, is currently studying Law at De Montfort University (DMU) in Leicester and has been awarded the Volunteering England's Gold Award.
The award is the only national student volunteering award that recognises achievement, dedication and leadership within further and higher education.
Sadaf has been volunteering with the Domestic Violence Integrated Response Project (DVIRP), a charity which provides support to anyone over the age of 16 affected by Domestic Violence in Leicester, Leicestershire and Rutland.
Her role has been as a helpline volunteer in which she gives advice and information to people who call in.
As a result of her commitment, DSU Volunteering, the university's students' union volunteering service, has also awarded her with an Outstanding Dedication Award.
Sadaf said: "I really appreciate my hard work being recognised, but nothing beats that feeling of when you know you have helped someone, just by listening to them.
 "Statistics show that every 60 seconds the police receive a phone call regarding domestic violence and I am glad to be apart of an organisation that aims to help such vulnerable people and aims to reduce incidents of domestic violence and abuse in Leicester."

Krishna Tailor, Helpline Co-ordinator at DVIRP, said: "Sadaf is an excellent volunteer and has always provided consistent support to the organisation. During the time that she has been volunteering for the project, Sadaf has developed and gained skills and knowledge around domestic violence and this has really shown in the support she has provided to the service users. She is an excellent example of how much volunteers contribute to a charity like DVIRP." 
 Victoria Hossack, Volunteering Manager at DSU Volunteering, said: "Sadaf has shown great dedication to her volunteering since registering as a student volunteer in her first year at DMU.
 "Sadaf's regular commitment to her role has seen her build up over 180 volunteering hours, which clearly illustrates her high level of dedication to the role."