 'My Name is Khan' in biggest opening for Bollywood film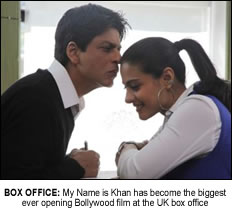 BOLLYWOOD film 'My Name is Khan' has stormed the UK box office, grossing nearly £1m in its opening weekend.
Special previews of the Shah Rukh Khan and Kajol film on Thursday 11 February meant the film had four days to excel at the box office – and it didn't disappoint, taking an amazing £936,000. 
The film has become the biggest ever opening Bollywood film at the UK box office – surpassing the previous record of £749,000 set in 2006 by another Shahrukh Khan film, 'Kabhi Alvida Na Kehna'.
Hollywood movie giants Twentieth Century Fox released the film across 91 sites across the country.
Director of Sales Andrew Turner said: "Expanding our Distribution network into the Bollywood arena has been a challenging and exciting experience. We are very fortunate to be working alongside the best possible talent associated with Bollywood. Our challenge at Fox was to recognise the incredible achievements of Karan Johar's previous work, all of which also starred Shah Rukh Khan, whilst bringing the expertise, knowledge and resources of Fox to the table.
"We are very proud to be associated with this extraordinary film and really could not have hoped for a better start with our entry into the Bollywood market place."