 Third time Lucky! Isa Guha wins at British Asian Sports Awards at third attempt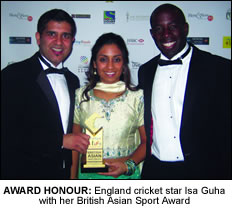 ENGLAND women's bowler Isa Guha is celebrating after being crowned Sports Personality of the Year at the British Asian Sports Awards.
It was third time lucky for the talented cricket star who has lost out on the award on two previous occasions.
The award caps off a marvellous year for Guha after winning the Word Cup, the World Twenty20 and the Ashes with the England Women's Team.
"It is the third time I've been nominated and the first time I've won, so I am extremely pleased," she said.
"I would like to thank my family for their continual support over the years and my fellow England teammates for making this such a special year. It also shows that women's cricket is highly regarded in the British Asian community and it is nice to get some recognition."

The 25-year-old has been a consistent performer for the women's national team since making her debut at the age of 17.
Clare Connor, Head of Women's Cricket, described Guha as an "inspirational role model" to young Asian women.
"Off the pitch she is a terrific ambassador for her sport and is an inspirational role model for young Asian women who have a dream of their own to pursue," Connor said.  
"We are all immensely proud of Isa for being named British Asian Sports Personality of the Year."

Earlier this year Guha joined the Sporting Equals Ambassador Programme, to encourage more girls, especially from ethnic minorities to become involved in sport.

"I want to show them that it is possible to study and have a normal career as well as achieving their sporting dreams," Guha said.

"Isa is living proof that playing at the top level does not have to mean sacrificing all else: she has a degree in biochemistry and is working towards her PhD; she has a promising future in science as well as an impressive cricketing CV," Sporting Equals Chief Executive, Arun Kang added.