 Bollywood star treated to royal British celebration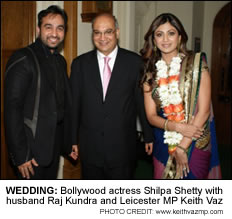 SHILPA Shetty brought a bit of wedding cheer to the Houses of Commons after a special dinner was thrown at the iconic London building in honour of her nuptials to British businessman Raj Kundra.
The Bollywood star jetted into Britain for the event which was organised by Leicester MP Keith Vaz.
Following a hearty main course, chefs at the House of Commons created a special desert for the star called 'Shilpa's Delight'.
Writing on her blog, Shilpa said she was surprised at the special honour.
"When he (Keith Vaz MP) told us he wanted to do it at the House of Commons I thought he was joking but he actually did," the actress wrote.
"Despite the snow storm it was worth all the effort as we were just so humbled by the honour, the warmth and graciousness extended to us. It was such a special night made memorable for life by Keith. We can't thank him enough."
The actress also revealed she was presented with a special signed wedding gift by PM Gordon Brown.
Speaking about the event, Keith Vaz MP said: "I am absolutely thrilled that we have been able to celebrate the wedding of Shilpa and Raj in the House of Commons.
"The wedding ceremony in India was an absolutely beautiful occasion and I am so pleased to be able to bring some of the celebrations to the UK. Both Shilpa and Raj have done so much for charitable causes."