 Sukhwinder Singh, 31, stabbed after chasing muggers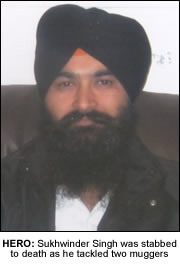 DETECTIVES are continuing to appeal for information into the murder of have-a-go hero Sukhwinder Singh.
The 31-year-old was stabbed to death after he tackled two men who had just mugged a woman in Barking on Friday.
Mr Singh was rushed to Royal London Hospital where he was later pronounced dead.
The builder, who had a wife and son in India, ran after the men after a 28-year-old woman's handbag was snatched near Barking station on Friday evening.
The victim had lived in the UK with relatives for around 10 years, according to the Metropolitan Police.
His cousin Harwinder Singh, 27, with whom he shared a house, said he drove to the scene where he found Mr Singh dying. He told the Mail on Sunday: "He was the bravest man, the most selfless person I've ever met."
A committed Sikh, Mr Singh used to go to Singh Sabha London East Gurdwara in North Street, Barking, every evening after work.
Mr Singh chased the robbers along Victoria Road into Uphall Road before he was attacked just before 7pm. He was taken to the Royal London Hospital but later died of a stab wound to the heart, police said.
Detective Inspector John Sandlin said: "This is a tragic death of a man who was killed for attempting to stop others committing crime and our thoughts are with Sukhwinder's family. However, I would also to reassure the wider community that tragic events such as these are very rare."
Mr Sandlin said Mr Singh was not connected to the woman who was robbed and described his actions as "brave".
The two robbers were black men in their 20s or 30s and 5ft 7in to 6ft.