 Broadcaster unveils world of Muslim women learner drivers in new six-part series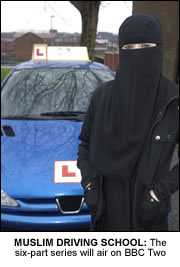 BRITISH Muslim women are hitting the road, taking their independence in both hands and putting their foot on the gas – and a BBC Two series will film their journeys.
The series 'Muslim Driving School', which will hit our screens on 12 January for six weeks, will take viewers into the world of women learners and their instructors, telling their stories from home as well as their cars over the weeks and months as they build towards their driving test.
Muslim women from Burnley to Bradford will feature in the series in what the shows producers have described as a "unique and entertaining series".
The series has exclusive access to numerous driving schools across the North of England – from one-woman operations to schools with over 40 instructors – who specialise in teaching Muslim women.
A spokesperson for the show said: "This is first and foremost a big-hearted, warm and funny documentary series, following new drivers negotiating perilous streets for the first time. Like all drivers-to- be, some will take to it like a duck to water – others never quite get it, no matter how many lessons they have."
Muslim Driving School, BBC Two, Tuesday 12th January 2010 – Tuesday 16th February 2010, 22:00