 Three jailed in £30 million drugs haul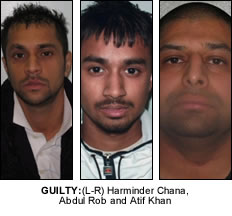 THREE men have today been sentenced to over 50 years in jail for their part in one of the UK's biggest ever drugs haul.
More than 350 kilos of uncut heroin worth 30 million pounds were imported into England from the Netherlands via the Eurotunnel, enough to keep at least 8,000 addicts going for a year, Metropolitan Police Inspector Marion Ryan said in a statement.
"This is the biggest heroin seizure we know of by any UK police force," Ryan said in a statement.
"Today's result is testimony to how the Met has prevented the serious consequences this conspiracy could have had on people's lives."
The men received prison sentences ranging from 15.5 years to 26 years.
The conspiracy was smashed after two of the gang were arrested in a motorway services station on the M20 trying to transfer three of 13 boxes from one car to another, Kingston Crown Court had heard.
Patrick Kuster, 37, a Dutch international with no fixed address, had brought the drugs over in a BMW car, police said.
He was found guilty of conspiracy to supply heroin last June and sentenced in September 2009 to 26 years in prison.
Collecting the three boxes was Harminder Chana, 32, from Upton Lane, east London. He was found guilty of conspiracy to supply heroin last June and sentenced on Monday to 17 years.
Atif Khan, 35, of Ilford, east London, who was expecting to receive the three boxes, police said, pleaded guilty to the same charge last September, and was sentenced to 15.5 years.
Abdul Rob, 30, also from Ilford, was found guilty on the same charge last December, and sentenced to 23 years in prison.
"This gang had a flagrant disregard for law, blatantly transporting these dangerous drugs in the back of their cars," the Met's Ryan added.