 Asian Network dedicates day of programming to Oscar winner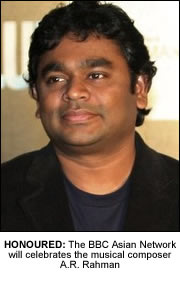 THE BBC Asian Network will dedicate a whole day of programming to the celebrated composer, A.R. Rahman later this month.
The Oscar winner will be featured across most programmes throughout 14 January.
Rahman first came to the attention of Western audiences with his film music for Elizabeth: The Golden Age and stage shows Bombay Dreams and The Lord of the Rings, however, it is for Slumdog Millionaire that the composer has received international acclaim.
Since the films release in January 2009, Rahman has won several awards, including two coveted Oscars, a Golden Globe, a BAFTA and is nominated for two Grammy Awards at the end of this month.
On A.R. Rahman Day, the BBC Asian Network will be honouring this success, starting with Adil Ray on the Breakfast Show from 7am.
The celebration will climax with a big interview on the Gagan Grewal Show at 6.30pm, where the legend will be discussing his success at the Oscars in the midst of the Mumbai attacks, his meetings with the late Michael Jackson, his faith and much more. 
Husain Husaini, Head of Programmes, BBC Asian Network, said: 'The BBC Asian Network has played A.R. Rahman's brilliant music long before his recent fame in the West with Slumdog Millionaire. We have known for years that he creates some of the best music ever to come from India. We are delighted to have him on the station and to be able to celebrate his unique musical gifts across our programmes."