 Rishi Rich team flown out to Mumbai for Shilpa Shetty wedding celebrations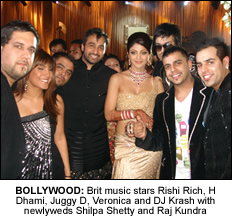 BRITISH Asian music star Rishi Rich has been given a Bollywood seal of approval after he was whisked to Mumbai to perform at the wedding reception of actress Shilpa Shetty and husband Raj Kundra.
The couple held a star-studded reception at Mumbai's Hyatt hotel just days after they wed in a small religious ceremony in front of close friends and family.
The British music producer and his team which included H Dhami, Juggy D, Veronica and DJ Krash were specially chosen by the newlyweds to perform at the event and were flown straight to India ahead of the event.
They mingled with a host of guests including Amitabh Bachchan, Ashwariya Rai, Hrithik Roshan and Shah Rukh Khan.
Speaking about the event, Rishi said: "It was a pleasure to be asked by friends Shilpa and Raj to perform at their wedding, this has been a wonderful event and they are an amazing couple who have made us feel at home."
The music stars were also given gold sovereigns as a token of the couple's appreciation.